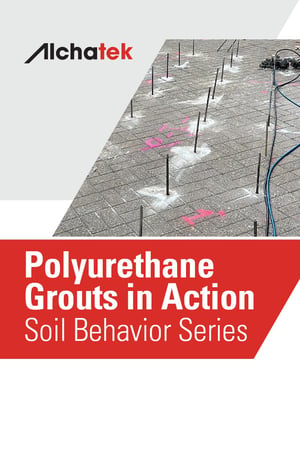 The field of geotechnical engineering is one filled with both uncertainties and innovations. At the intersection of theory and practice, polyurethane grouts have showcased their prowess in not only addressing challenges but also in revolutionizing soil stabilization techniques. Today, let's explore three real-world scenarios where polyurethane grouts stood as the unsung heroes.
1st Case Study - Protecting a Building Foundation Next to an Excavation Site
In the sunny locale of Juno Beach, Florida, at the Loggerhead Marinelife Center, a new sea turtle habitat was in the works. But, as excavations commenced, the general contracting company faced a critical challenge. The foundation of an adjacent building stood precariously close, vulnerable to destabilization.
Scenario: A solution was essential not just for the safety of the building but for the integrity of the marine habitat.
Action: Recognizing the need for a specialized approach, a soil stabilization contractor was deployed. They erected a polyurethane grout wall using AP Soil 600, a top-tier product known for permeation grouting. The emphasis on environmentally safe repair materials was of paramount importance given the marine context. Using a staggered pattern for injection rods ensured the soil was permeated consistently with the grout, stabilizing the ground.
Outcome: A total of 500 gallons of grout was injected, forming a robust grout wall. Completed in a mere two days, the resin cured within 24 hours. By the next working day, excavations resumed without the looming fear of undermining the neighboring foundation.
2nd Case Study - Deep Soil Stabilization at a Shopping Center
City Creek Center, a plush shopping mall in downtown Salt Lake City, offers more than just a shopping experience. Beneath its gleaming facade, it bore the scars of a decade-old construction challenge.
Scenario: A sidewalk, built over a five-foot-wide trench filled with pea gravel, started to show signs of strain when the gravel began to settle. This created havoc with the underground power lines, affecting local businesses.
Action: Engineers, tapping into the potential of polyurethane grouts, envisioned a deep stabilization approach. AP Fill 700 was chosen for its dual ability to permeate soil and fill voids, ensuring both strength and stability. With a meticulously charted injection plan, the geotechnical team started their descent into the ground.
Outcome: Using a methodical approach, the crew injected the grout at depths of up to 30 feet, successfully stabilizing the trench. The swift two-day operation allowed for the general contractor to proceed with their repairs, restoring normalcy to the mall.
3rd Case Study - Stabilizing Soil at a Busy Intersection
At a bustling intersection in Orange County, Florida, traffic was threatened by a lurking danger below. A depression, caused by an improperly sealed underground sewer line, undermined the road's integrity.
Scenario: Water infiltration and soil erosion compounded the problem, creating voids that could lead to a catastrophic collapse.
Action: Instead of opting for a traditional, disruptive repair approach, the Orange County officials sought out Alchatek's expertise in chemical grouting. AP Fill 700, with its versatility, was employed for both permeation and void filling. With a grid-based injection plan, pipes were driven deep into the affected zone, simultaneously sealing off leaks and stabilizing the soil.
Outcome: Two focused interventions on subsequent Saturdays ensured that the major intersection faced minimal disruption. The voids were addressed, the soil stabilized, and the potential for a disastrous cave-in was averted. A testament to the power and efficiency of polyurethane grouts.
Polyurethane grouts, with their unique properties and versatile applications, are reshaping the geotechnical landscape. These case studies not only underline their effectiveness but also highlight their role in sustainable, efficient, and less invasive solutions.
For more information on soil stabilization with polyurethane...