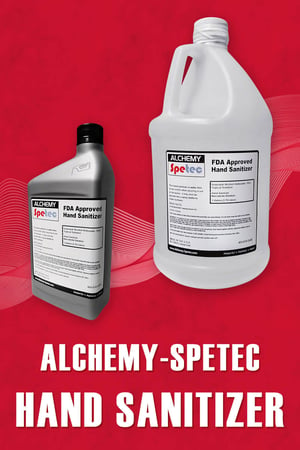 Unfortunately, the Covid-19 pandemic is intensifying again. Please consider protecting yourself on the job and in your daily life with a steady supply of hand sanitizer. Alchemy-Spetec Hand Sanitizer is manufactured in accordance with an
isopropyl-based WHO-formula. It's Made in the USA, here at our Tucker, GA headquarters. We are fully registered with the FDA as a manufacturer with a National Drug Code (NDC) of 74826-812. It is also important to note that this formula does not include gel thickening agents. It can be used with a small amount applied to the palm, or as a spray or wipe.
Advantages
Easy on skin – no harsh chemicals.
Meets World Health Organization guidelines.
FDA approved. NDC 74826-812 Isopropyl Grade.
No gel added. Sprayable for cleaning surfaces.
Available Sizes
One Quart Bottles - Box of Two
One Gallon Jugs - Case of Four
2.1 Oz Squeeze Bottle Packs
1 Quart & 15 Empty Squeeze Bottles
2 Gallons & 120 Empty Squeeze Bottles

(For bulk orders - call 404-618-0438.)
Want to purchase Alchemy-Spetec hand sanitizer online?