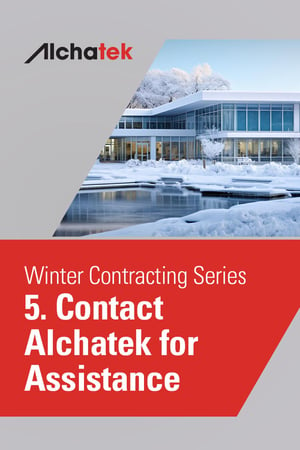 For contractors seeking productive work during the slower winter months, Alchatek is here to help every step of the way.
Our team can provide guidance on expanding your services to take on new projects during cold weather. When you're undertaking new winter work, we're available to consult on important logistics like site evaluations, scheduling, equipment selection, and material adjustments for colder temperatures.
We offer personal consultation to equip you with any new skills required for off-season jobs. We also collaborate with contractors to build relationships with local engineers, associations, municipalities, and other potential lead sources. Our staff can assist with tailored presentations and outreach efforts to position you as the go-to contractor for these clients.
Properly winterizing your slab lifting equipment is equally crucial if you're winding down for an off-season. Our technical experts can advise you on prepping your slab lifting rig and/or PolyBadger lifting system for winter storage.
Contact the Alchatek support team today to for assistance with your winter game plan.
For in-depth information on geotech polyurethane applications...