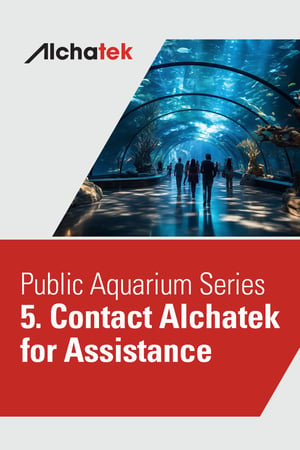 As specialists in waterproofing solutions, the Alchatek support team understands the unique needs facing public aquariums. Leaky exhibits and tanks can disrupt the visitor experience and require timely repair. Alchatek is here to help aquariums tackle these challenges.
Alchatek's technical advisors stay up to date on the latest methods for advanced leak detection and precision sealing. Get science-backed recommendations tailored to your aquarium's specific exhibits and structures. Factors like tank size, material, age, and type of aquatic life are all considered when making recommendations.
Additionally, Alchatek connects aquarium managers with experienced, trained contractors. These contractors are skilled in properly applying Alchatek's top-tier polyurethane grouts to provide reliable, non-disruptive leak repair in aquarium environments. The grouts are designed to cure underwater and bond well to common aquarium materials like acrylic, fiberglass, and concrete.
By partnering with Alchatek, public aquariums can enhance the sustainability of these invaluable community assets. Get tailored solutions to maximize exhibit uptime and create leak-free, healthy habitats for aquatic life. Alchatek's experts are ready to help maintain the aesthetic wonder and educational impact that make public aquariums so vital for communities. Call 404-618-0438 or fill out this form to contact Alchatek today!
For in-depth information on sealing leaks with polyurethane grout...