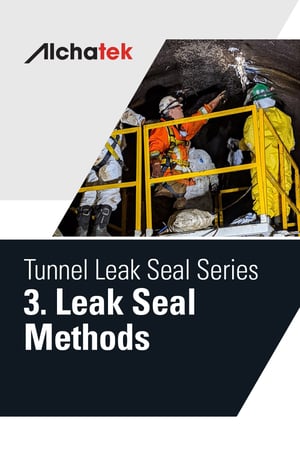 After identifying tunnel leaks, the next step is exploring sealing methods. While crack/joint injection and curtain grouting are common solutions, they are not one-size-fits-all. By understanding the range of options and their pros and cons, engineers, maintenance teams, and infrastructure managers can make informed decisions tailored to each leak's unique circumstances.
Crack/Joint Injection and Curtain Grouting: A Brief Overview
Before diving into alternative methods, let's briefly touch upon the two most commonly used techniques for sealing tunnel leaks.
Crack/Joint Injection
Crack/joint injection involves injecting a sealing material, often a polyurethane grout, directly into the cracks or joints where water is leaking. This method is highly effective for sealing small, accessible leaks and is often used in concrete tunnels.
Curtain Grouting
Curtain grouting involves injecting grout in a curtain-like pattern behind the tunnel lining to create a waterproof barrier. This method is more suitable for larger leaks or when the exact location of the leak is unknown.
Alternative Methods
While crack/joint injection and curtain grouting are effective, they are not always the best fit for every situation. Here are some alternative methods worth considering:
Mechanical Seals
Mechanical seals use physical components like gaskets, O-rings, or metal clamps to seal off leaks. These are often used in utility tunnels where pipes or cables pass through the tunnel walls.
Cementitious Grouts
Cementitious grouts are water-based grouts that can be used in wet environments. They are often used in combination with other methods to provide a more robust sealing solution.
Epoxy Resins
Epoxy resins are synthetic materials that can adhere to a variety of surfaces. They are particularly useful for sealing leaks in metal tunnels or in areas where a strong bond is required.
Swellable Waterstops
These are hydrophilic materials that expand upon contact with water, effectively sealing off leaks. They are often used in construction joints and are particularly effective in concrete tunnels.
Factors Influencing Method Selection
Choosing the right sealing method involves considering several factors:
Material Compatibility
The material of the tunnel lining plays a significant role in method selection. For example, cementitious grouts work well with concrete surfaces, while epoxy resins are more suitable for metal surfaces.
Severity and Location of the Leak
The size and accessibility of the leak also influence the choice of method. Crack/joint injection is more suitable for small, accessible leaks, while curtain grouting or mechanical seals might be better for larger or less accessible leaks.
Environmental Considerations
The surrounding environment can also influence method selection. For example, in tunnels close to natural water bodies, it's crucial to choose environmentally friendly sealing materials.
Criteria for Selecting a Sealing Method
When choosing a sealing method, stakeholders should consider the following criteria:
Effectiveness
The primary consideration should be the method's effectiveness in sealing the leak and preventing future leaks.
Cost-Efficiency
While it's tempting to opt for the cheapest solution, stakeholders should consider the long-term costs, including maintenance and the potential need for resealing.
Regulatory Compliance
Different jurisdictions have varying regulations concerning tunnel maintenance and repair. It's crucial to choose a method that complies with these regulations to avoid legal complications.
Long-Term Sustainability
The chosen method should offer a durable solution that stands the test of time, minimizing the need for frequent repairs.
Key Takeaways
Sealing methods for tunnel leaks go beyond just crack/joint injection and curtain grouting. Various factors, including material compatibility, leak severity, and environmental considerations, influence the choice of method. By understanding these factors and criteria, stakeholders can make informed decisions that not only address the immediate issue but also offer long-term benefits.
For more information on sealing leaks with polyurethane grout...