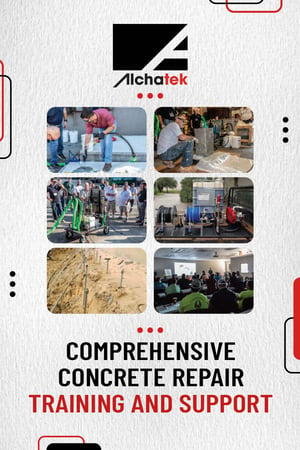 In the world of polyurethane geotech and leak seal repair applications, the quality of the products used is undeniably crucial. However, at Alchatek, we firmly believe that the success of your projects is not solely reliant on the products alone. It is the combination of superior products and comprehensive training and support that truly drives success.
Phone Support: Expert Assistance at Your Fingertips
Have you ever found yourself preparing for a project (or even in the middle of one), and needing immediate technical assistance? Our technical support is designed to address such situations. With Alchatek, you have access to a team of experts, ready to provide immediate, reliable phone support to navigate any challenges that may arise during your concrete repair projects.
On-Site Support: Expertise Right Where You Need It
In certain situations, phone support may not suffice. You may require hands-on assistance, on-site, to guide you through the process. That's where our nationwide field support comes into play. With Alchatek you could be eligible for assistance from a team of experienced professionals providing on-site support, ensuring your project's success.
Online Training: A Wealth of Knowledge at Your Disposal
In today's digital age, the importance of accessible, flexible learning cannot be overstated. Alchatek's online training is a testament to our commitment to this principle. Our online training center is a comprehensive resource, available 24/7 to qualified customers. This resource, rich with presentations, demos, and instructional videos, is available at your convenience, allowing you to enhance your knowledge at your own pace.
Training Events: In-Person Technical Education
Alchatek's Spring and Fall training events provide in-depth education on slab lifting, soil stabilization, crack injection, and curtain grouting. These 2-to-3-day programs are designed to help experienced contractors round out their knowledge and get new contractors up and running quickly. In addition, half-day Alchatek grout labs at your local leak seal distributor offer a chance for a good overview of crack injection and curtain grouting products and procedures. These events provide a platform for hands-on training from our technical staff, offering a unique opportunity to gain practical experience and insights. Join an immersive learning experience that equips you with practical skills! Join our mailing list if you'd like to be notified when the next event is announced.
Expert Consultants – The Most Experienced Technical Services Team in the Industry
Charlie "The Grout Geek" Lerman, Director of Technical Services – Leak Seal Division, has been providing technical support and training for polyurethane grouts for over fifteen years and has been involved with the International Concrete Repair Institute (ICRI) for a decade. He is also a veteran of the United States Navy's submarine and recruiting services. Charlie is known in the industry by his nickname "The Grout Geek."
Colt Hullander, Director of Technical Services – Geotech Division, has spent a decade on the contractor side of the industry as a project manager and installer. Colt brings many years of invaluable field experience with expertise in a wide range of equipment, products, and techniques. His field experience and technical acumen offer geotech customers an industry-leading support and consulting resource.
Jacob Bryant, Geotech Services Technician, has worked in various forms of construction for the last 8 years. He spent several years working as a technician applying chemical grouts, servicing and maintaining equipment, training new hires, and managing rigs/warehouse stock. He has worked across the United States with a wide variety of polymers and soil types.
At Alchatek, we're committed to providing comprehensive training and support to ensure your success in the field of concrete repair. Whether you need phone support, on-site assistance, online training, or expert consultations, we're here to help. Contact us today to learn more about our services.
Want more information on geotech and leak seal products and equipment?