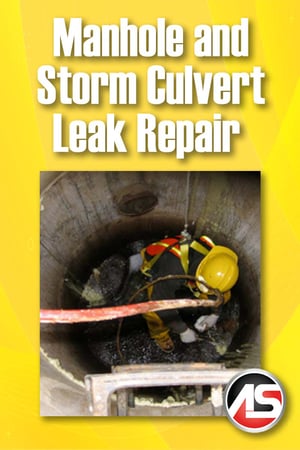 Editor's Note: This article is an updated edition of Charlie Lerman's 2017 article, Crack Injection and Curtain Wall Grouting - Part 4.
Manhole Leak Repair
Leaking manholes can cause unnecessary damage to the environment and can be costly if left untreated. Water leaks create voids that can lead to sinkholes, roadway collapses and system failures. Chemical Grouting is a low cost, durable repair method for manholes that can prolong the life of the structure.
Injection Methods for Manhole Repair
Brick Manholes
Drill to the outside of the manhole and into the soil through the brick.
Repair all pipe penetrations, and have

AP Oakum

ready to help plug leaks.
Start injection of material at the bottom and work your way up.
Precast Manholes
Repair all pipe penetrations and apply oakum rings if too wide.
Drill injection holes into the manhole rings at the four main clock positions (12-3-6-9).
Start injecting material from the bottom up.
Storm Culvert Leak Repair
Storm culverts transport large volumes of water. Leaks bring exterior soil into the storm culvert, often causing sinkholes above. Chemical grouting these structures is a non–excavation repair, which will seal joints and leaks and stabilize soils. Unlike cement grouts, chemical grouts add little to no weight to surrounding soils. Injection of storm culverts can be achieved by manned entry or via probe grouting from above when access is not considered feasible.
Injection Methods for Culvert Repair
Manned Entry Method
All joints need to be identified and inspected for any possible concrete repair that may need to be performed prior to the injection process.
Wide joints should be packed using oakum rope and chemical grout to minimize waste and contain injection grout in the joint. Once prepared, injection can be performed.
Probe Grouting Method
Map off leaks using a CCTV camera.
Measure out and mark locations on the street or soil above.
Drill holes though street or soil above at each location.
Insert injection pipe to a depth of one foot below bottom of repair point.
Start injecting a rate of 1 gallon per foot stopping at the top of the pipe.
It is important to remember that a leak is a round-the-clock problem. A small leak can eventually lead to a larger leak, which can eventually become catastrophic if left untreated. The longer the wait before repairs, the more expensive the repair becomes. Call the Alchemy-Spetec tech support team now at 404-618-0438 for assistance on manhole and storm culvert repair projects.
Want more information on leak seal products?