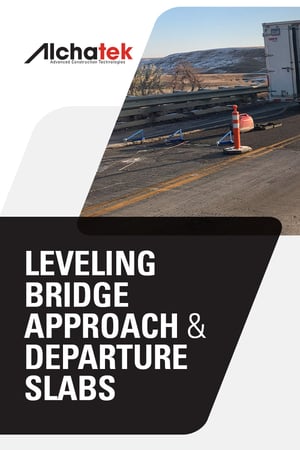 The approach and departure slabs adjacent to a bridge in McKenzie County, North Dakota had settled, leading to an uneven and hazardous road surface. A geotechnical contractor was brought in to level the road surface and mitigate any further settlement.
Powerful Polymer
The contractor selected AP Lift 475, a two-component, hydrophobic, structural lifting polymer designed for airport, highway, and railroad applications. It can be used to stabilize structures, fill voids, and lift slabs supporting tremendous loads. In addition to tremendous in situ load-bearing capacity, AP Lift 475 is also traffic-ready in less than one hour.

Painless Procedure
AP Lift 475 was injected through the approach and departure slabs to fill subterranean voids, compact the existing subgrade, and lift the settled structures. As the material was injected, the material rapidly expanded, compacting the subgrade soils. Once the subgrade was compacted and the load-bearing capacity of the soil improved, the material raised the settled slabs.
Rapid Result
The approach and departure slabs were lifted to their proper elevation and the underlying soil was improved to mitigate future settlement. This work was performed in two days.
Want more information on geotech products and equipment?