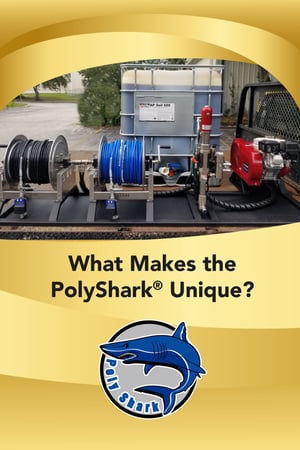 It's not an exaggeration to say that that the PolyShark® soil stabilization and seawall repair pump system is unmatched in the marketplace. What makes it so unique?
A Geotech Pump System Like No Other
The PolyShark® system includes injection hoses, suction lines, flow meters, a custom solid steel frame, a skid-mounted setup, and top-of-the-line components. It is a complete turnkey unit, ready to go upon arrival. Let's take a closer look...
Two 350 feet injection hose reels are included, allowing an exceptional amount of additional reach for limited access and/or remote location jobs.

Suction lines make it easy to pump material from totes, drums, or even pails if needed. This type of flexibility is not common to all geotech pumps.

Flow meters make it easy to accurately track the amount of material pumped.

The custom solid steel frame, polyurea coated for excellent chemical resistance, is built to last and weather all types of environments.

The skid-mounted setup keeps all system components together, allowing for easy transfer from truck to trailer to the ground on a job site if necessary.

The Honda gas motor, Titan hydraulic pump, and Titan hydraulic fluid ram are top-of-the-line, tried, and true components. This means less maintenance and downtime when compared to competing systems.
Want more information on the PolyShark
®?