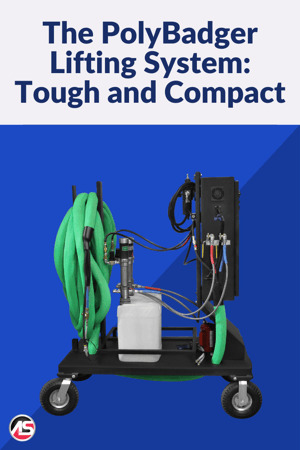 The Alchemy-Spetec PolyBadger mobile slab lifting system (named in honor of the mighty honey badger) is tough and compact.
The Polybadger is
Tough
The PolyBadger slab lifting system is built to last:
The cabinet is constructed from powder coated carbon steel and the frame is constructed from carbon steel box tubing.
The durable hose is constructed with a Teflon core and a stainless-steel braid. (The system can operate with up to 200 feet of hose.)

Essential elements (heaters, electronics, auto calibrator) are self-contained and protected in a metal cabinet.
The PolyBadger is
Compact
The PolyBadger slab lifting system is durably built and designed to go where other lifting systems simply cannot venture:
The PolyBadger is smaller in size than most of the competition, at 30" wide and 48" long. Now that's what you call portable!

This is one of the few systems powered through a common 120-volt wall outlet (vs the usual 240-volt requirement). Compatibility with common wall outlets exponentially increases your location possibilities.

The entire system is very maneuverable, resting on two swivel and two fixed 6-inch pneumatic castor wheels. The wheels are are filled with light weight polyurethane instead of air, so they don't go flat.
The Auto Calibrator
Another essential feature is the auto calibrator. It keeps the flow of A-side and B-side slab lifting material on ratio, eliminating the possibility of crossover clogging in the gun or the whip hose. The two low-pressure transfer pumps and auto calibrator are literally the only moving parts in the whole system. That means less downtime, less maintenance, and more productivity on the job. This system is easier to use and a more affordable than many options on the market.
Want more info on the PolyBadger?