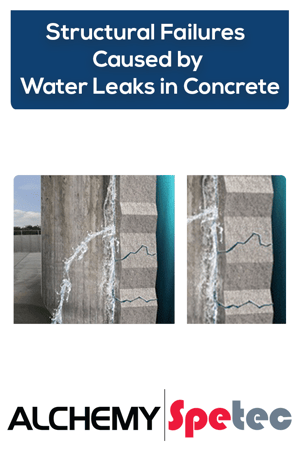 Water leaking through concrete can lead to structural failures, sinkholes, and other costly types of property damage. For property owners, it is important to be aware of potential problem areas in your facility, factory, or residence. For concrete restoration and waterproofing contractors, it is important for your business to know where to look for leak sealing opportunities.
So where are the areas that contractors and property owners need to be looking? Here we have broken it down into two broad categories: Commercial / Industrial / Municipal and then of course, Residential.
Commercial / Industrial / Municipal
Tanks: Water and Wastewater Treatment Plants, Aquariums
Infrastructure: Concrete Pipe, Manholes, Pipe Penetrations, Lift Stations, Pumps Stations, Utility Vaults
Industrial Plants: Machinery Pits, Containment Structures, Retaining Walls, Slab Joints
Tunnels: Tunnel Segments, Retaining Walls, Headwalls and Wing Walls
Commercial: Floors, Parking Structures, Elevator Pits, Basements
Specialized arenas for sealing leaks in Mines, Dams, and Power Plants.
Residential
Single Family: Basements, Foundation Walls, Swimming Pools, Fountains, Seawalls, Retaining Walls
Multi Family: Elevator Pits, Parking Garages, Seawalls, Pools, Basements
Farms: Silos and Tanks, Earthen Dams, Manmade Ponds
Alchemy-Spetec manufactures an effective range of polyurethanes designed to seal leaks for all of the above issues. We also strive to continually educate the market.
Want in-depth info on leak seal procedures and products?