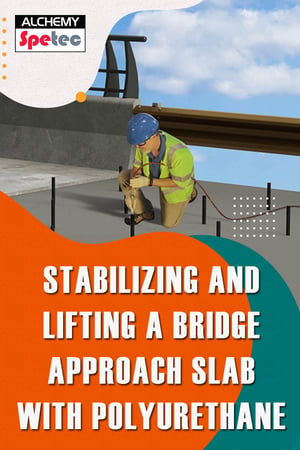 Lifting a settled bridge approach slab with polyurethane foam requires specific knowledge of proved repair procedures for these types of structures. Here's an overview...
Look for a Hidden Sleeper Slab
Larger roads and highways will often have a hidden sleeper slab that spans underneath the pavement and the approach slab. It is designed to help transfer the traffic load from the roadway to the approach slab. If there is settling at a bridge approach you must determine if there is a sleeper slab in place. Drill through the pavement where it meets the approach slab and if you hit more concrete underneath the pavement you have found the sleeper. If there is a sleeper present where there is settling you will need to perform deep injection a couple of feet below the sleeper - just for soil stabilization. Rural roads and private roads typically do not have a sleeper slab present. Always ask the client if there are drawings available.
Deep Soil Stabilization Followed by Lifting
At least one level of deep injection is required for approach slab/pavement lifting. This is for soil stabilization. 4' spacing and 4' below the pavement is standard. Do not exceed more than 30 lbs per point at a given depth. It is advised to always have a DCP (dynamic cone penetrometer) test done in order to determine the blow counts. Low blow counts indicate weak soil zones that need to be targeted for deep injection. Lifting will be done directly through the pavement/approach slab, the same way you do standard slab lifting. Do the deep injections first and then finish with the injections directly beneath the slab.
Fill Voids with Polyurethane
Watch for voids under the approach slabs where they meet the bridge abutments. There are typically voids in this area that need to be filled. When filling them, it is good to have an observer under the bridge because the foam can fill the void up and come over the abutment, depending on how the structure is designed.
Want more info on geotech repair products?