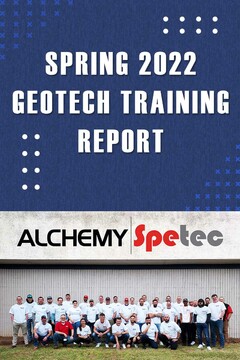 On March 29th - 31st, Contractors from around the world traveled to Alchemy-Spetec HQ in Tucker, GA for a thorough education in Slab Lifting, Soil Stabilization, the Deep Lift® process, equipment, and applications. They received hands-on training from a technical staff with decades of on-the-job experience.
This three-day geotech bootcamp featured presentations and demos on the following subjects:
Geotech Product Line Overview
Geotech Applications & Case Studies
PolyBadger® Demo & Training
Estimating & Quoting Jobs
PMC Pump Demo & Training
Leak Seal Issues on Geotech Jobs
Ground Penetrating Radar Demo & Training
Slab Lift Rig Demo & Training
Competing Geotech Techniques
PolyShark® / Soil Stabilization Demo & Training (On-Site)
Deep Lift® Demo & Training (On-Site)
All of us here at Alchemy-Spetec would like to thank everyone who participated! and extend an invitation to those who missed this event to sign up below for notifications on future training programs.