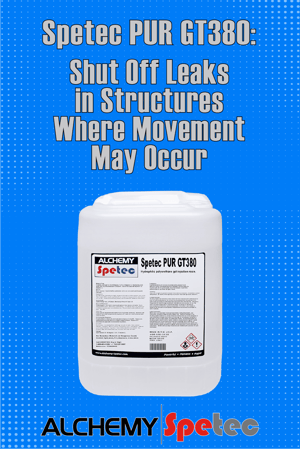 In this post, we're profiling Spetec PUR GT380. This hydrophilic polyurethane gel injection resin is your best option for shutting off water leaks in concrete, brickwork, and sewers where movement may occur. You can also use Spetec PUR GT380 for curtain grouting behind tunnels, concrete, and sheet piling. Due to the product's low viscosity, you can also use it to cut off water leaks in a variety of foundations, including diaphragm walls, piling sheets and secant piles.
Advantages of Spetec PUR GT380
Highly flexible and ideally suited for structures with high probability for settlement or movement.

One component hydrophilic polyurethane resin, additional mechanical water shut-off through expansion after curing.

Versatile form, adjustable with the amount of water added. Can cure to a rubbery foam (200 to 500% water) or a stable polyurethane gel (500 to 700% water).
We advise pairing the resin with the following accessories: a Spetec Pump Cleaner, AP Soak 130, Oakum, mechanical ports, and a single component electric injection pump.
Want more information on Spetec PUR GT380?