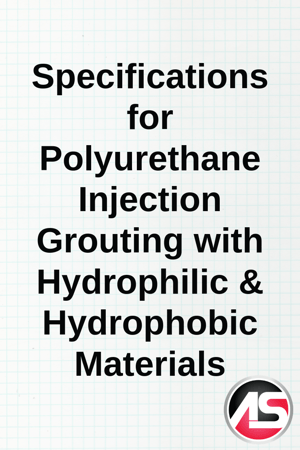 In this blog post, we'll take a look at our specification entitled
Injection Grouting – Hydrophilic & Hydrophobic
. The specification includes documentation on the following:
Sealing cracks in concrete structures through pressure injection.
Sealing hairline cracks, expansion joints, wide cracks, pipe joints, pipe penetrations.
Saturating dry oakum to create a flexible gasket for sealing pipe penetrations, joints and larger defects in concrete structures.
If you're unfamiliar with the terms hydrophobic and hydrophilic, please read the blog post Hydrophobic vs Hydrophilic Polyurethanes. In that post we clearly explain the differences between the two types of leak seal resins…
Hydrophobic Polyurethanes:
Hydrophobic polyurethanes naturally repel water (similar to the way oil would repel water and stay separate if you were trying to mix them in a glass). These products push water out of the area in question as they expand. Hydrophobics are used with catalysts which allow you to adjust the set time. They also have zero shrinkage after curing.
Hydrophilic Polyurethanes:
Hydrophilic polyurethanes naturally mix with water before curing (similar to the way gin and tonic mix thoroughly in a glass). This characteristic allows for a very strong chemical and mechanical bond, as water helps pull the material into the pores of the concrete. These products do not require a catalyst. You can pump them straight out of the pail.
Click this link, Injection Grouting – Hydrophilic & Hydrophobic, to view a PDF of the specification. It thoroughly documents the installation process for these two types of products (in our case, the hydrophilic Spetec PUR GT500 and the hydrophobic Spetec PUR F400). These are both flexible polyurethanes. For a copy of the specification in Microsoft Word format, please call Alchemy-Spetec at 404-618-0438.
For more Alchemy-Spetec specifications, scroll to the bottom of the Alchemy-Spetec Downloads Page.
Would you like to speak to an Alchemy-Spetec consultant regarding specifications?