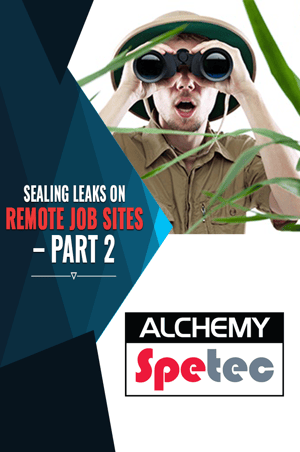 In Part 1 of this series, I laid out the challenges my customer's crew faced repairing pipe penetrations on aerial manholes in a very remote area. The repairs aren't that hard, but when you have to carry all of your materials and gear across creeks and down gullies, you have to work smart.
Previously, I indicated how we took the time to do a thorough site evaluation. Then we created a plan and a master list of what we would need; knowing we would have to carry everything in and out. We decided to repair the penetrations with a combination of polyurethane soaked oakum as a packing material and a low viscosity hydrophilic polyurethane that we would inject.
These particular pipe penetrations had originally been sealed with mortar and the manholes were of brick construction. Since they were also quite old, the leaks were not very hard to find. In fact there were gaps up to one inch in width between some of the pipes and the penetration holes. The mortar had just crumbled away. In addition to the penetration leaks, there were also several leaks through the walls of the manholes. A skim coat of mortar had been applied to the outside surface, covering the bricks. But now waste water and sewage was finding its way through the many brick seams and joints, and the crumbling mortar too.
I'll spare you some of the things we used that are common to all of our jobs; items such as buckets, mechanical ports, drill bits, gloves, safety glasses, etc. Items of note that did come in handy on this remote project were as follows:
Plastic sheeting to cover our gear when it rained and ponchos for ourselves.
A hand powered, 2-component cartridge gun. We were prepared to use a small CO² tank to power our pneumatic gun but it turns out we did not need much pressure to inject the resin.
Battery powered Ridgid brand hammer drill with 3 extra batteries. It took one battery to drill port holes 360º around each 22" diameter penetration. During lunch we would take the batteries to the truck and recharge them with our generator.
We brought a light weight plastic chemical sprayer. We were able to fill it with water from the creek and it generated enough pressure to flush our drill holes and the areas around the penetrations where we dug out the old mortar.
Light weight dry oakum. This was great for sealing the large gaps. Dry oakum can be soaked in polyurethane, packed into joints and cracks, and activated with water. It will swell up and become like a flexible gasket.
Bug spray and a sense of humor.
In my next and final installment on this subject, I'll go into detail about how we actually completed the repair and saved the planet. To wrap up this one, I would just say that it pays to think things through and be creative. There are usually several ways to get the job done; in our case we had to get the job done without exhausting ourselves getting there and back. We brought lightweight cartridges and oakum, battery powered hammer drills, and simple plastic sheeting to protect from the elements. These things took the place of pumps, compressors, electrical power, and shelter.
There's one last thing I recommend looking in to: Even though this was a job that could only be accomplished on foot, the owner of the pipeline was the county and they have to maintain a path so they can walk the line, make repairs, and cut up trees that fall across the pipes connecting the manholes. For this job we worked hand in hand with the county, walked the line with them, and got them to send in their crew to clear out the path anew for us. Our repairs repaid them for their free help.
Want in-depth info on leak seal procedures and products?