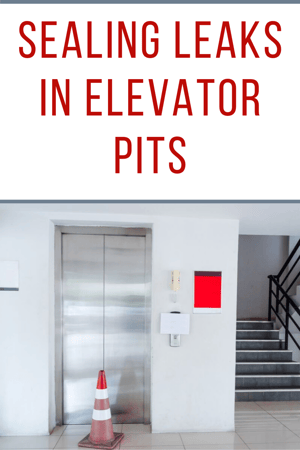 Elevator pit water leaks are very common. These pits can be open to flooding and leakage because they are usually at the lowest point of a building below the water table. Water can easily seep from cracks in the walls or through the floor wall detail.
There are many reasons why elevator pits leak. This can include incorrect application, damage to existing elevators, pits that are very old, changes in the water table, and even shortcuts that have been taken such as non-installation of waterproofing materials. These are just a few of the causes.
So what happens when these elevator pits become consumed with water?
The solution is simple!
You would drill holes through the walls and floor using a grid pattern. You would then pump water activated polyurethane chemical grout into the soil to create what we call a "curtain wall". This wall essentially stops the water from penetrating the area around the pit. It creates a permanent seal and allows the elevator to function properly again. (If you're a property owner, we can help you find a contractor to do this. Just call us at 404-618-0438.)
Alchemy-Spetec products that are used for curtain wall grouting include:
Want more information on curtain wall grouting?