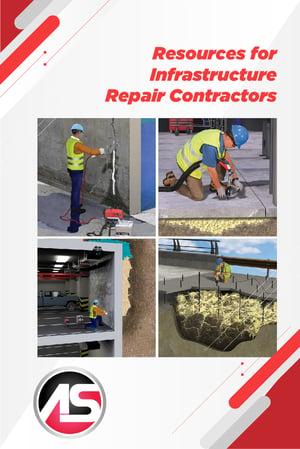 Alchemy-Spetec offers a wide variety of online resources for current and aspiring infrastructure repair contractors. Let's take a look at what's available...
Literature Downloads
Looking for polyurethane concrete repair product Tech Data Sheets, Safety Data Sheets, Application Procedures, Case Studies, Environmental Safety Info, or Specifications? All of these documents are available on one convenient page at Alchemy-Spetec's Comprehensive Download Resource Center.
Educational Videos
Watch brief, info-packed videos on crack injection, curtain grouting, slab lifting, and soil stabilization on the Videos page.
Spray Foam to Slab Lift Conversion
With just four additional pieces of equipment and one set of material, you can quickly and easily add slab lifting to your service offerings. Take a look at exactly what additional equipment and material you'll need to get started on the Spray Foam to Slab Lift Conversion page.
Training Center
The Alchemy-Spetec Training Center is a password-protected resource-packed page featuring video presentations and product/equipment demos. This page is only available to established customers who have requested access from their Regional Manager.
Injection Connection Podcast
The Injection Connection podcast features in-depth discussions with thought leaders and professionals in the infrastructure repair industry.
Want more information on Alchemy-Spetec products?