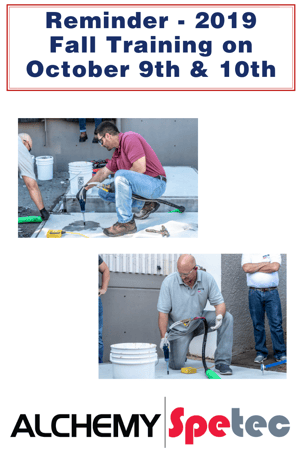 Don't forget to sign up for Fall 2019 Training!
October 9th & 10th, 2019 at Alchemy-Spetec HQ in Tucker, GA
Get ready for a thorough education in Leak Seal, Slab Lifting, Soil Stabilization and the Alchemy-Spetec Deep Lift™ process. You'll get hands-on training from a technical staff with decades of on-the-job experience.
Wednesday - Leak Seal
Leak Seal Product Line Overview
Curtain Grouting
Permeation Grouting
Leak-Seal Product Mixing
Pump & Packer Overviews
Leak-Seal Accessories
Municipal Applications
Live Injection Demos
Open Discussions
Thursday - Geotech
Geotech Product Line Overview
Soil Stabilization
Geotech Product Mixing
Rig & Mobile System Overviews
Geotechnical Accessories
Slab Lifting Live Demo
Deep Lift™ Overview
Soil Testing with the
GPR & Penetrometer
Maintenance Discussions
Pricing / Estimating / Cost Savings
Open Discussions
Participants receive a Samsung tablet loaded with training material.
Your Instructors:
Stephen C. Barton (President/CEO), Jim Spiegel (VP Sales & Business Development), Andy Powell (Southeastern Regional Manager), Anthony Sandone (Eastern Regional Manager), Charlie Lerman (Western Regional Manager), and Michael Binyaminov (Western Sales Representative).