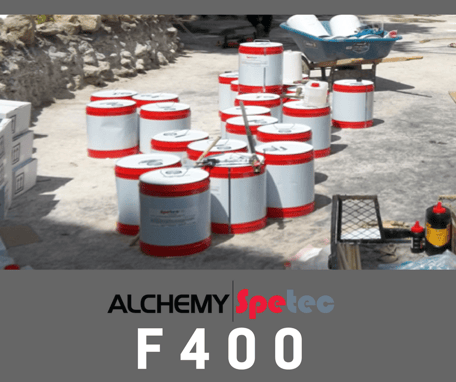 There are many polyurethane resins that are used to treat water leaks. Today we will review F400. I have recently joined Alchemy-Spetec as Western Regional Manager, and I'm studying up on the product line. I thought it would be beneficial to share what I'm learning about the Spetec line with our blog readers, as many who joined us in the Alchemy Polymers era may be new to these products as well.
What is F400?
F400 is a one-component polyurethane leak seal injection resin that is designed to shut off water leaks. It's a closed cell, flexible, hydrophobic, low viscosity resin. It's also solvent and phthalate free.
What is F400 used for?
F400 is used to shut off water leaks in concrete, brickwork and sewers where movement and settlement may occur. It also makes a great water cut-off for leaks in foundations such as
diaphragm walls, piling sheets and secant piles. In addition, you'll find it helpful for sealing water-carrying cracks and joints in tunnel segments. Not to mention cuurtain grouting behind tunnel, concrete, brickwork and sewer walls. It's also great for injection of water cut-off membranes and liners in tunnels.
Want an in-depth overview of Alchemy-Spetec leak seal solutions and procedures?