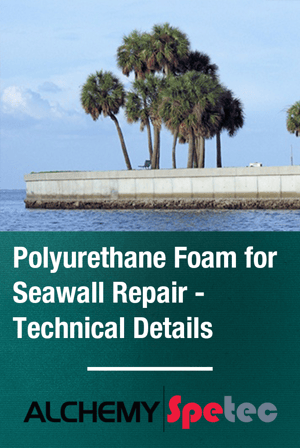 Repair sea walls instead of replacing them by stopping high flow leaks, filling the voids behind concrete structures and binding loose soil with:

AP Fill 720 & AP Fill 700 — innovative, cost effective, water activated, low viscosity, simple to use closed cell polyurethane injection resins.

Proven Strength
Because these foams are impermeable to water once in place, the likelihood of future erosion is vastly diminished versus other commonly used fill materials.


Originally developed over 30 years ago, and continuously improved since, this technology has one of the longest histories of success in the field among engineering uses of polyurethane foams.
Environmentally Friendly
Phthalate free.
Approved for contact with drinking water.
Quick Set Time vs Cement Grout
AP Fill 700 & 720 foams set in 10 minutes or less.

Cement grout takes hours to days.
Differences Between 700 and 720
720 has a higher expansion ratio and is more flexible when cured.

700 has a lower viscosity, so it works better in cooler temperatures.
Want a complete technical breakdown of AP Fill 700 & 720 for seawall repair?