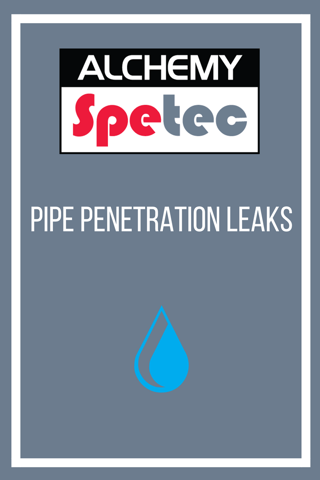 Pipes that are fed through foundation walls are subject to leaking over time due to corrosion, pressure or cracks around the pipe. This takes place because water essentially weakens the concrete around the pipe and creates leaks.
When these particular pipes are put in place, contractors usually drill a hole through the wall and insert pipe sleeves to hold the conduit, sewer pipe or water line. Most of the time water will leak from the back of the wall where the soil has eroded and then through the sleeve and out on to the floor.
Qualified contractors can use Alchemy-Spetec polyurethane water activated chemical grouts and oakum to repair these pipe penetration leaks. (Oakum is a oil-free natural fiber that is used for filling voids.)
Here's how it's done:
Soak the oakum in chemical grout, and then quickly submerge it in water.

Immediately pack the oakum around the pipe that is sitting in the sleeve. It will harden in minutes and become a tightly sealed gasket.

If needed, use an injection needle to fill area behind the oakum with chemical grout.
Alchemy-Spetec products that can be used include:
Want more information on Alchemy-Spetec leak seal products?