Easy to Clean and Easy on the Wallet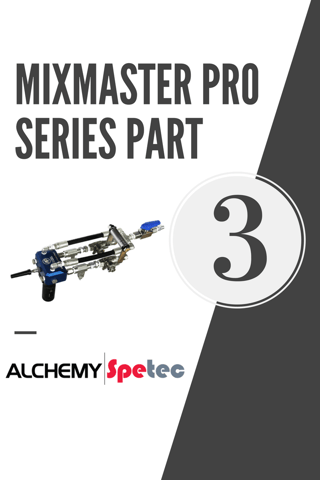 Today's blog is part 3 of a 4 part series on the MixMaster Pro Slab Lifting Gun. The big news is coming on Friday when Part 4 arrives just in time for the 2018 World of Concrete. But that's Friday so you have to wait.
In Part 1 and Part 2 we covered the advantages of the Mixmaster as it pertains to job safety and production maximization. In part 3 I want to address the "Painless Procedures" part of maintaining the MixMaster Pro.
When I first started in this business, I worked with a lot of contractors that used traditional spray foam guns that had been adapted to slab lifting. We had the MixMaster gun at the time but we still had to penetrate the market with it. My first contractors were skeptical of our system; a gun designed just for slab lifting. But I remember watching them struggle with cleaning guns, dealing with crossovers, and ordering long lists of parts.
Now 5 years later, the MixMaster Pro is even more refined and we have well over a hundred out in the market. Slab lifting contractors rave about how it takes less than 10 minutes to clean at the end of the day. Getting the hang of operating it is very easy and it's nice that clean up procedures are just as smooth.
How about the spare parts? Those of you who own all of the other types of slab lifting guns out there may not want to hear this; it's going to hurt. I have seen the orders that you guys are placing for gun parts. It's thousands of dollars per year. I have one contractor who says they averaged from $1000 - 2000 per month on gun parts, to maintain one rig with two guns. That is nuts. They have been converted to MixMasters for about 4 months now and they just finally called to order a few spare parts. It wasn't because they needed them either; they just wanted to have a few things on hand just in case.
In my capacity I deal with a majority of the slab lifting customers we have. In 2017 I would guess we have sold less than $5000 total in spare parts…for all of the MixMaster guns that we have in the field. It's time to stop beating your head against the wall with the other slab lifting guns.
The MixMaster Pro has what you need:
Lowest new gun price on the market at $1495.00
Port travels with the gun – no tripping over ports, no wasting a port on every hole
10 Minutes to clean at the end of the day
Lowest operating cost – It's not even close
Easily adaptable to Deep Lift accessories
On Friday we are going to roll out something really cool. Make sure not to miss part 4 of the series.