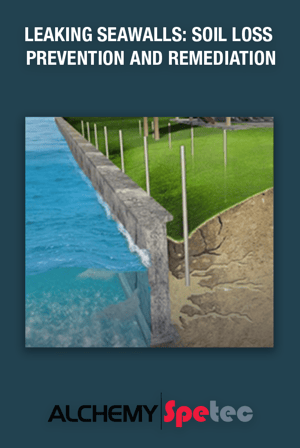 The Problem
As tidal flows rise and fall, water pushes its way in through cracks, joints, and defects in seawalls. The water pushes in on incoming tides and flows out on outgoing tides. As the water flows out, it carries sand and soil with it which causes undermining of the structure, voids to form, and deteriorates the structural integrity of the seawall. This cycle is exacerbated during periods of heavy rain which continue the outflow of soil.
The Solution
AP Fill 700 is a semi-rigid hydrophobic polyurethane foam that reacts with water or moisture in the soil and expands to fill voids while it permeates sandy soil to form a solid, strong, watertight mass. It has been used extensively in seawall applications to seal cracks, voids and defects as well as for filling voids and stabilizing the soil.
The Process
AP Fill 700 can be injected through pipes directly into voids and loose sandy soil using a single component pump (airless sprayer or double diaphragm pump).
Step 1: Insert pipes down to the lowest level to be injected. This can be done through driving the pipes mechanically, water jetting, or air jetting them down.
Step 2: Ensure the soil has enough moisture content to cause a reaction of the AP Fill 700 (slightly damp to saturated).
Step 3: Blend catalyst with AP Fill 700 to desired level. Typically, between 2% and 5% AP 106 Catalyst will be sufficient.
Step 4: Connect the hose from the pump to the injection pipe. The hose should have a ball valve to control the flow of the material.
Step 5: Inject AP Fill 700 either at a pre-determined rate (rule of thumb is 1 gallon per vertical foot) or until sufficient back pressure is established.
Step 6: After each "point" is injected, raise the pipe 12" and repeat the process. Once the pipe is within 24" of the surface you will probably get material flowing back to the surface (known as "refusal"). Stop at this point and move to the next pipe.
Step 7: Repeat this process until the entire area has been injected.
Note: A containment barrier should be used on the water side of the seawall to capture any foam that leaks out of the seawall during the process.
Note: Check valve type drains may need to be installed in the seawall after injection to allow water from heavy rains to vent out and reduce pressure on the seawall. These drains will allow water to flow out, but not soil.
Want in-depth info on seawall repair procedures and products?