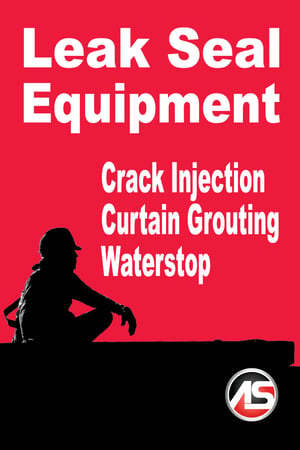 Polyurethane Leak Seal Pumps
Alchemy-Spetec offers world-class Titan electric injection pumps for sealing both small and gushing leaks as well as filling voids behind and below structures. We modify these pumps to optimize them for polyurethane injection.
IMPACT 440 Electric Injection Pump
The IMPACT 440 is an advanced electric injection pump that's ideally suited for residential, property maintenance and small commercial applications. This pump is the industry standard.
PowrTwin 8900 Plus Electric Injection Pump
The PowrTwin 8900 Plus is favored by contractors who want to complete large application jobs in record time with high-profit margins.

Polyurethane Leak Seal Accessories
Alchemy-Spetec offers a wide variety of accessories for polyurethane leak seal applications:
High Pressure Crack Injection Valve
This crack injection valve allows you to control resin flow at the point of injection and turn an airless sprayer into an injection pump.

Flush Wand
Use the flush wand to flush concrete dust from the holes you have drilled for crack injection.

High Pressure F-Valve Assembly
Twin streaming is a technique in which you use a high pressure F-valve to inject resin AND water at the same time. As you can see in the photo, the F-valve has two supply connections – one for water and one for resin. The water and resin come into contact before they exit the coupler.

Oakum
AP Oakum is an oil-free dry jute rope that seals cracks and slows down gushing water during leak repair. Oakum can be used alone or in combination with Alchemy-Spetec leak seal resins.

Ports/Packers
Alchemy-Spetec offers pretty much all of the required ports/packers you could possibly need for your next chemical injection project.
Waterstop Products
Waterstop products are designed to prevent leaks from occurring in new construction.
Injection Tube System
The Spetec Injection Tube System is used in conjunction with the Spetec PUR F400 or Spetec PUR H100 as a primary waterstop in cold joints and pipe joints. This system can also be used in retrofit applications for expansion joints and other wide cracks or joints measuring over 3/8 of an inch.
Spetec SST500
SST500 expanding waterproof strips are simply fastened onto an existing joint. When in contact with water in a confined space, SST500 will swell and stop the infiltration. SST500 remains consistent in its performance throughout its life cycle and the flexibility allows it to fill voids and cracks in the immediate surrounding area.
Want more information on leak seal equipment and products?