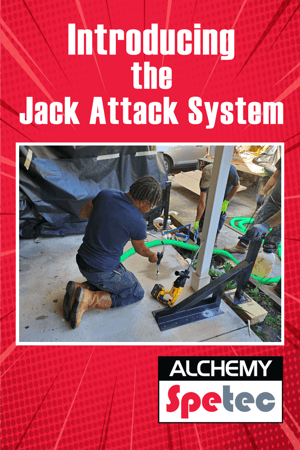 The AP Jack Attack System provides leverage for positioning small to medium slabs into place while lifting or stabilizing with polyurethane. Easy for one person to operate. Triangular steel frame.
Even with the largest polyurethane rigs on the market, manipulating small slabs can be very tedious. It would be nice if all slabs settled evenly but that is rarely the case. Often slabs settle unevenly, making it nearly impossible to lift and rotate back into place with foam alone. It will lift for sure but it won't rotate back into place.
For these small to medium slabs we recommend the Jack Attack System. This super-easy leverage system can be attached to a slab with concrete screw-in anchors. Then the integrated 8000 lb (3628.74 kg) jack can apply the leverage necessary to make the slab rotate back into place while the lifting process takes place. It is good practice to leave the slab 1/8"-1/4" (3-6mm) under-level to allow the foam to create optimal strength as it performs the final lift to level. It makes even the most troublesome sidewalk slab a piece of cake and you will use less foam as well.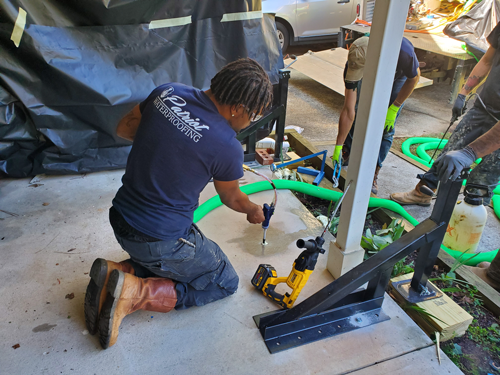 This photo is from a job in which the front porch settled away from the home causing columns to separate from the roof line. On one end the slab had actually cracked in two and was settled away from the home as well as parallel to the home. You can see the triangle-shaped Jack Attack System holding the slab in place as foam is injected underneath.
Want more info on Alchemy-Spetec Geotech products?