Infiltration of ground water into storm and waste water systems is a huge issue for many municipalities. This earlier blog article on the subject is an excellent resource.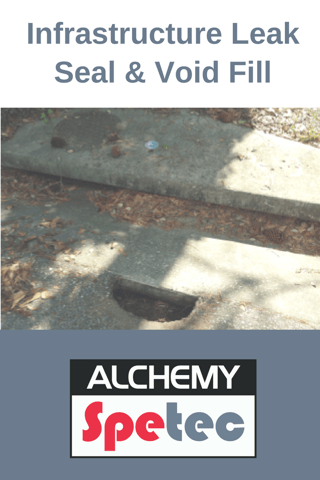 As Andy Powell states in his post:
Aging sewer and storm water systems across the country are plagued by infiltration and inflow; especially in areas with high water tables and sandy soils. Over time, compacted soils around catch basins, manholes, and culverts relax and result in deflection of joints and pipe connections. The end result is infiltration of ground water into the storm and waste water systems. This infiltration erodes the soils surrounding below grade drainage structures resulting in sinkholes, settling roadways, and property damage; not to mention the extra cost of treating that uninvited ground water.
But luckily there is a solution:
The solution is a combination of sealing leaking joints both from within the drainage structures and through point grouting from street level. Expansive polyurethanes such as Spetec F400, Spetec F1000, AP Seal 500, Spetec H100 and AP Fill 700 produced by Alchemy-Spetec can be injected directly into pipe and manhole connections where they react with infiltrating water and expand to seal off leaking joints. Additional point grouting from street level fills voids and permeates loose soils. This relieves hydrostatic pressure from the structures and strengthens the ground to support the above roadways and sidewalks.
Want more information on infrastructure leak seal & void fill?