SOLD OUT!
Alchemy-Spetec HQ in Tucker, GA
Registration Deadline: Tuesday, October 12th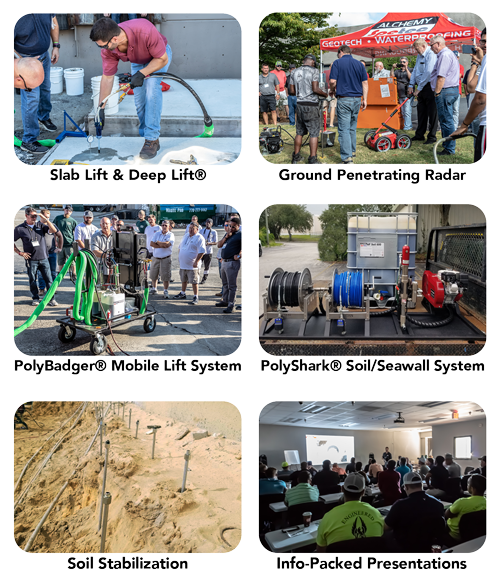 $695 Registration Fee
$615 for each additional participant from
the same company.
Get ready for a thorough education in Slab Lifting, Soil Stabilization, the Alchemy-Spetec Deep Lift® process, equipment, and applications. You'll get hands-on training from a technical staff with decades of on-the-job experience.
Tuesday, October 26th
Geotech Product Line Overview
Geotech Applications & Case Studies
PolyBadger® Demo & Training
Estimating & Quoting Jobs
Wednesday, October 27th
PMC Pump Demo & Training
Leak Seal Issues on Geotech Jobs
Ground Penetrating Radar Demo & Training
Slab Lift Rig Demo & Training
Competing Geotech Techniques
Thursday, October 28th
PolyShark® / Soil Stabilization Demo & Training (On-Site)
Deep Lift® Demo & Training (On-Site)
Your Instructors:
Andy Powell (Southeastern Regional Manager), Erik Prinzing (Midwest Regional Manager), Colt Hullander (Director of Technical Services - Geotech), Patrick Zito (Eastern Regional Manager), Joel Bryant (Western Regional Manager).