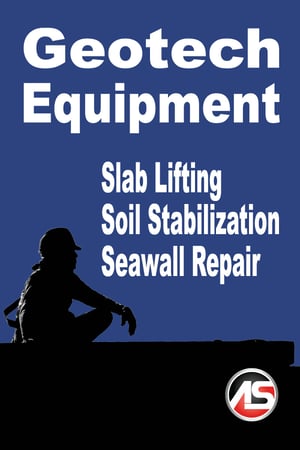 Rigs & Pumps for Polyurethane Slab Lifting
Entry-Level Rig
This rig features a hydraulic PH-2 proportioner. It's in a 16' v-nose trailer and has a gas powered air compressor and generator. We have many contractors with this set up doing everything from residential to D.O.T work.
Mid-Level Rig
This rig can either be a 18' or 20' trailer that happens to be built around the PH-2 proportioner. This setup is made for the contractor who wants stellar results in an affordable price range. This package boasts a 22 KW diesel powered generator and an electric air compressor.
Advanced Level Rig
This rig is similar to the mid-level rig with a larger PH-40 proportioner. These rigs come in 20'-plus size trailers and box trucks. They and are powered by 35 KW Stateline Diesel (John Deere) generator sets and also include electric air compressors. This setup is ideal for larger jobs.
PolyBadger Mobile Lifting Unit
The PolyBadger lifting system is tough and compact. This system is an affordable entry-level option for new contractors, as well as an extremely portable addition to the experienced contractor's arsenal. The PolyBadger is a lot less expensive than your standard 20 foot trailer rig. The set up is simple and requires minimal equipment. The entire system can easily fit in the back of a pickup truck!
Polyurethane Soil Stabilization & Seawall Repair Pumps
PolyShark Pump for Larger Jobs
Single-Component Geotech Pump Skid
The PolyShark system is a custom pump skid for installation of single-component polyurethane geotech resins. This world-class skid set up is essential for large scale seawall repair, soil stabilization, and void fill projects. The PolyShark includes a gas-powered high-pressure injection pump, two hose reels, and flow meters.
Gas-Powered High-Pressure Injection Pump
A step up for projects that require greater power and output, this custom modified pump is our best-selling gas over hydraulic piston machine, favored by contractors who want to complete large application jobs in record time with high profit margins. The hydraulic ram fluid section is moved front and center in the configuration for easier maintenance and control.
High-Pressure Hose Reels with Stainless Steel Ball Bearings
High-pressure design guarantees durability when used with the high-pressure single-component pump. The construction is completely corrosion resistant and the stainless steel ball bearings, hardware, and manifolds are stronger than the aluminum parts on standard hose reels. The ball bearing-driven hose reels operate smoothly because they contain no bushings. (Bushings easily wear out.)
Flow Meters
Two high-pressure flow meters are capable of recording the exact amount of product pushed through the hose lines. This allows for precision material-use tracking.
Titan 440 Pump for Smaller Jobs
Pumps like the modified Titan IMPACT 440 electric injection pump are ideally suited for residential, property maintenance and small commercial applications.
MixMaster Pro Slab Lifting Gun
The MixMaster Pro was designed based on years of feedback from slab lifting contractors working in the field. Every known point of frustration and difficulty has been addressed in this sturdy, single-purpose gun. Further benefits include a lower cost of consumables (you can reuse ports with this gun), beefy check valves designed to handle the back pressure, and a short 10-minute breakdown/cleaning session at the end of each day. Not to mention the fact that this gun is a production BEAST - no leaky port connections, no fumbling with clamps. Watch your man hours on each project shrink accordingly. Did we mention you'll have less replacement part orders? There are only a few inexpensive replacement parts on this gun - PERIOD.
Want more information on geotech equipment and products?