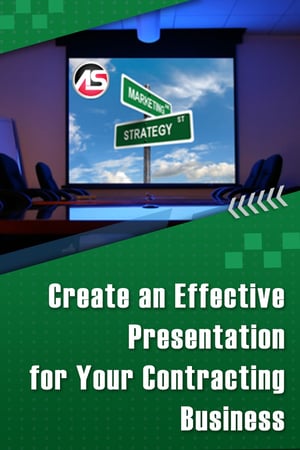 Many of the contractors I've worked with over the years have had to give a presentation at one time or another. In some cases, they need to make a pitch to a potential client (for example at municipality or state agency contract meetings). In other cases, they have the opportunity to market their services by giving presentations at trade shows, "lunch and learn" seminars, webinars, homeowner association meetings, professional association events, etc.
Presentation opportunities can sometimes arise on short notice. This is why you can benefit from creating presentations ahead of time. If you'd like, you can ask our marketing team to critique your presentation. You can also inquire about getting a member of our sales team to co-present when an opportunity does come along.
Incorporate the following tips to create a powerful presentation for your contracting business. Some of these suggestions may seem contrary to everyday conventional practice, but who wants a run-of-the-mill presentation? We've tested this approach time and time again, with consistently positive results. It will be worth your while to at least give it a shot.
Fewer Words
As a detail-oriented professional, you may be inclined to pack your presentation slides with lots of text in order to get all your important points across. This is not the most effective way to give a presentation. It can lead to information overload and a drowsy, impatient audience. When creating a presentation, you want to condense the information and only include text that is absolutely essential.
Powerful Images
Now that you have seriously scaled back your text use, the next step is to make the presentation lively. The audience needs to be actively engaged rather than bombarded with data. If you associate a powerful image with each essential point, the audience is better able to visualize and remember the concept.
Engaging Stories
Once you have simplified your text and added visually striking images, you can add extra punch by incorporating stories to get your points across. As a contractor, you probably have many stories from the trenches. Telling a story is a surefire way to make sure a message sticks.
White Paper Instead of Note-Taking
One thing that dilutes the impact of even the most powerful presentations is audience note-taking. This habit guarantees that half their time is spent looking down at their desk rather than paying attention to you. That's why it's helpful to prepare a whitepaper (basically an essay with any essential graphics) that summarizes all the key points from your presentation. Inform the audience upfront that there is no need to take notes, as they will receive a written summary afterward. Explain to them that they'll get a lot more out of the presentation if they provide their full attention.
Conclusion
Since I believe in giving credit where credit is due, I'd like to acknowledge that most of these ideas came from the book Presentation Zen: Simple Ideas on Presentation Design and Delivery by Garr Reynolds.
For more tips on how to create a powerful presentation for your contracting business, or to inquire about co-presenting with one of our specialists, give us a call at 404-618-0438.
Want more information about marketing your contracting business?