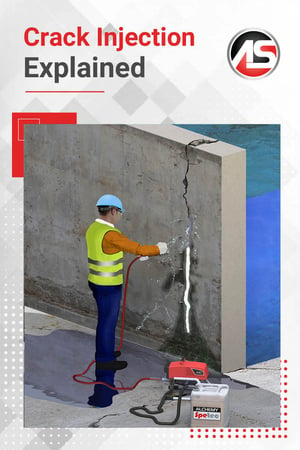 Editor's Note: This article is an updated edition of Charlie Lerman's 2017 article, Crack Injection and Curtain Wall Grouting - Part 2.
Crack Injection with Polyurethane
Crack injection has many advantages over other methods. For example, if you're sealing a leak in a water tank, you can inject from the outside of the tank. So the tank can remain in service while you repair it. Having to dry a crack, like you do with epoxy resin, is not needed as this material reacts with water. The material also remains flexible at all times.
Crack injections can be applied in both vertical cracks and in horizontal cracks. With vertical cracks, it is imperative to start at the bottom of the crack and work your way up the crack until it is filled. This forces the material up and through the crack and will simultaneously push the water up and out as well. With horizontal cracks, injection can be started at either the left or right end.
The crack injection process is rather simple, but some mis-steps can prove quite costly. For best results, follow the steps below after discussing them in detail with a trained professional...
Crack Injection in 10 Steps
Step 1. Identify crack locations.
Step 2. Estimate the amount of resin you'll need. (One gallon per 25 linear feet of cracks.)
Step 3. Prepare surface of crack.
Step 4. Drill injection holes at a 45 degree angle.
Step 5. Flush out injection holes with water to remove any debris.
Step 6. Insert injection ports on both sides of crack.
Step 7. Inject water into each port.
Step 8. Start injection of material.
Step 9. Always grout twice.
Step 10. Add water again to activate any remaining resin.
Alchemy-Spetec Crack Injection Products
If you need help choosing a product for your job, call us now at 404-618-0438 to talk to a tech support rep.
Want more information on leak seal products?