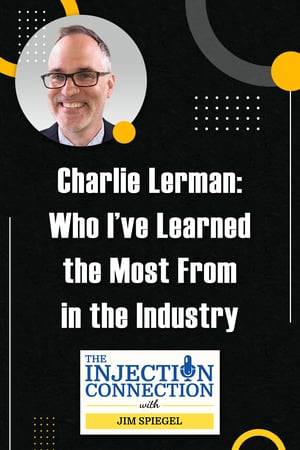 This article is an excerpt from Episode 9 of Alchemy-Spetec's podcast The Injection Connection, featuring Charlie Lerman "The Grout Geek". Charlie is Director of Technical Services - Leak Seal® Division at Alchemy-Spetec. The Injection Connection is hosted by Jim Spiegel: Vice President of Alchemy-Spetec and Board Member at the International Concrete Repair Institute. (If you'd rather listen, an audio version of this excerpt is posted at the bottom of the article.)
Jim Spiegel: One of the questions that I really want to start incorporating into a lot of these episodes is, "Who have you learned the most from in the industry? We'll take a little opportunity to name drop a couple of people but who have been some of your beacons in the industry who have taught you what you've learned?

Charlie Lerman: There are two main names that come up real quick. First there is John Ziebell. I worked directly with him for the six years that I was at De Neef and he was quite the resource for me. And then Scott Anderson also taught me a good amount and just really helped me out. And really the only reason I probably didn't get more from Scott Anderson is just that I lived in Houston and he lives up in the New England area. Those are the two main people. I really think that they gave me my foundation to build from. But where I learned the really cool minutiae stuff is from all the intelligent engineers and contractors that I deal with. Because again, when we sit down at the table and we try to design a job, it's not just one person. I mean, when I got in this industry, I'd never worked on a dam before. But I'd done crack injection. I understood that. So when I went to my first dam project, I had a lot to learn about that structure per se but we had the engineer and the owners. They knew the dam. I knew my product. And then we had us coming together. So I'm in a unique position where I get to pick up all this little nuanced stuff. So when you look at someone who's out there doing crack injection or doing chemical grouting every day, they've got a good routine and they know their stuff for that - but they're typically looking at similar types of projects. Whereas I get to see anything from a dam to a manhole. I've actually consulted on a job where we drilled into a window and grouted between CMU block and glass. That is the kind of unique stuff that just comes from those kinds of travels.
Listen to the audio version of this excerpt...
Want some information on Alchemy-Spetec Leak Seal
®

products?