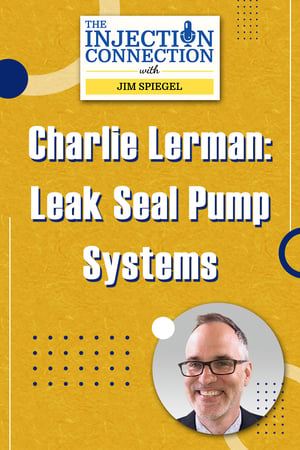 This article is an excerpt from Episode 9 of Alchemy-Spetec's podcast The Injection Connection, featuring Charlie Lerman "The Grout Geek". Charlie is Director of Technical Services - Leak Seal® Division at Alchemy-Spetec. The Injection Connection is hosted by Jim Spiegel: Vice President of Alchemy-Spetec and Board Member at the International Concrete Repair Institute. (If you'd rather listen, an audio version of this excerpt is posted at the bottom of the article.)
Jim Spiegel: What's some of your favorite equipment to work with? Favorite pumping systems?

Charlie Lerman: I've always been a fan of the airless paint sprayers (a.k.a. modified electric injection pumps). They're just a good workhorse and have been the industry standard. So I like those and that's what I used most of my career. I'm dealing a lot more now with acrylate type products. And I do really like the pumps that we use for those, the plural component stainless steel pumps. Finally, I've seen some that are not difficult to use, which is nice to find one that's easy. It's still a complex machine but it's broken down and very easy. I'd say that's one of them that's coming up right now. But still, it's hard to just go away from that old reliable Graco or a Titan 440.

Jim: Yeah, for sure. It's pretty much the status quo out there.

Charlie: But Jim, let me add - to jump on the other side of that, and we offer these pumps, it's not like I'm badmouthing a competitor or something like that but there's the drill pumps. And while they have their place these little drill pumps, I believe that they actually are hard for contractors because a lot of the people that look at getting the drill pumps are first-time grout users and they're trying to save some money. So they're getting a drill pump rather than an airless paint sprayer to save a couple hundred dollars there. The problem is that using that drill pump takes a little more technical expertise. So if it's your first job, that's not always the good pump to cut your teeth on. It's got it's good position and stuff like that and it's light and it's easy to move around but it does take a little more skill. That's one of the pumps just kind of to watch out for.

Jim: Yeah, as you and I have been pretty open about, not everybody has the same experience with different equipment. You've pumped a lot more grout than probably all of us, but I have quite a bit of experience with the drill pumps. I agree with you. Probably the benefit that I see is that they're easy to take apart. So, when there are issues with it, which can happen to any pump that you're pumping chemical grouts with, you're looking at seven Allen screws and you're into the ball and spring assembly - so you're pretty much in the guts of it with seven screws. That's the only thing that I really like about it just from a maintenance standpoint. I agree completely that if you're doing this a lot, you're probably not doing yourself justice with it. Especially if you're getting into higher volume sort of stuff. I mean, for any curtain or soil grouting it's just not relevant. And you're mixing a lot. You're mixing small volumes all the time. As you know from being on site, especially on large volume applications, keeping product mixed can be a huge functional manpower issue. Because you just don't account for all the time needed for having that guy keeping things mixed. I see the pros and cons for it. But it's well noted that you're not a huge fan.

Charlie: No and it's still a great product. There is a niche for it though. And really that's my main concern. And I think also that comes from my history because often times I'm either on giant projects and that's where they're demanding to have that customer service out there. And they're not even looking at these pumps because, like you said, they're just not high volume. And then the other times where I'm training people is a lot of times when they're brand new. And it's just not a great pump for someone brand new. But it's light, it's easy to maneuver and that is an advantage a lot of times when you're just setting up and if you're doing a residential area or you're doing something small or you're doing something that's off the beaten path and you don't want to have to carry a whole bunch of equipment.
Listen to the audio version of this excerpt...
Want some information on Alchemy-Spetec Leak Seal
®

products?