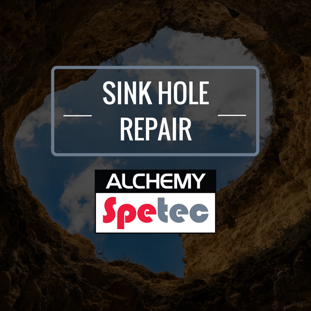 As mentioned in the previous blog post, Kiawah Island is located in Charleston, South Carolina. Due to the makeup of this area, water flows abundantly in every area naturally. In this post I'll discuss a sinkhole that appeared on one of the island's bike trails. This was caused by the soil eroding away under an asphalt sidewalk. This particular bike trail rested on and around a pond that contained fresh fish. The only acceptable route to fix this issue was to use Alchemy-Spetecs' H100, which has been certified as safe for contact with drinking water. (Other products often used for soil stabilization are AP Soil 600 and H40.)
We advised the contractor to slowly open up the sinkhole by chipping away the bad asphalt and driving probes down to the ground while simultaneously pumping H100. The contractor pumped in H100 until the grout reached a suitable level at the top of the void. The next day after the grout cured, the path was squared off and repaved using sand and stone.
Within 24 hours start to finish, they were able to eliminate the void and get the trail back in shape for public use - without harming the ecosystem of the pond and fresh water fish.
Want more information on sink hole repair and soil stabilization products?