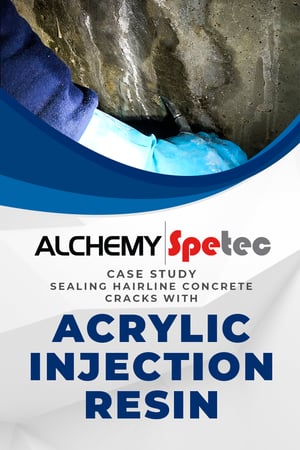 I'd like to share a case study from a job that I recently consulted on with one of our contractor customers.
A concrete tank west of Rollinsville, Colorado began showing numerous, hairline cracks during construction. Previous attempts to seal the cracks using urethane grouts were unsuccessful due to the sheer tightness of the cracks and high amount of reinforcing steel. The tank was critical for a state infrastructure project, so Restruction Corporation was called in to get the job done.
Powerful Polymer
After a phone consultation, we determined the best course of action would be to use Spetec AG200, a super-thin acrylate grout that could penetrate the hairline cracks and even the ones previously injected with a urethane grout. This water-swelling hydrogel is based on low-viscous acrylic that cures into an elastic product with 500% elongation.
Painless Procedure
I trained a knowledgeable polyurethane grout crew how to handle Spetec AG200 and an acrylic pump. No other chemical grout manufacturer was willing to come out and provide field service for this application.
Rapid Result
After the grout was injected, the cracks sealed quickly. Both the customer and contractor were extremely happy with the results. Yet another successful job for one of our customers!
Want more information on Alchemy-Spetec leak seal solutions?