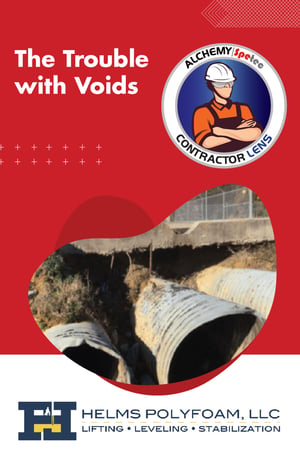 This post is part of the Alchemy-Spetec Contractor Lens series, featuring views, news & case studies written by our customers. This article, written by J.R. Crowell of Helms Polyfoam, is an overview of void filling with polyurethane foam. If you're an Alchemy-Spetec customer and you'd like to discuss writing content for our blog, please send an email to marketing@alchemy-spetec.com today!
In the chemical grouting world, a void is defined as an area beneath a house/building, slab, or structure where soil was once present and is now absent. Voids are a sign of soil loss typically brought on by drainage issues and/or poor soil compaction. If voids are not addressed properly, they will continue to get bigger, and the structure's integrity will be at stake.

Your first thought may be to fill the void with field dirt or topsoil in hopes of fixing the issue. In most cases, this method will only temporarily fix the problem visually, NOT structurally. The soil will not be properly compacted, and the structure will not have the necessary support. Also, the water paths have already been created, and water will continue to drain to this area and pull soil from beneath the structure.

Long-lasting polyurethane repair for this common problem will help you forget the void ever existed. The space will be filled with our expanding polyurethane resins by way of injection. This is a high-density, low-weight structural foam that can support thousands of pounds per square foot. Polyurethane resins enter as a liquid to chase all the water paths and fill the void space that was created. It then expands into a solid to displace all loose, weak soil and gives the structure/slab the support that it needs. This is all done in a day's work with no headache, no stress, and no more floating slabs that serve as a ticking time bomb.
If you're located in the Mississippi area, give Helms Polyfoam a call today at (601) 966-7821 or fill out their contact form to learn more about fixing your soil stabilization issues.
Want more information about Alchemy-Spetec geotech products?