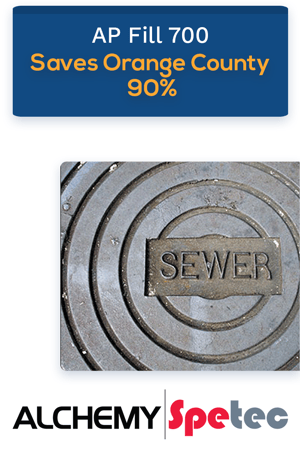 A few years ago, we were asked to do a product demonstration for the Utilities division of Orange County, FL (which includes Orlando). Truthfully, I have dealt with Orange County since the mid 1990's. They have a crew that does infiltration grouting among other things.
We were supposed to demonstrate our product on a fairly slow leak in a manhole. Not by design, but this was the leak they were scheduled to fix in the time frame we had scheduled the demo. Originally, they asked me to bring 5 pails of AP Fill 700. I also brought both our slow and our fast catalyst.
When I showed up in the morning, they told me they found a different leak which was a gusher. They asked if I had about 10 pails. I told them I only brought five. They said, "we'll try your stuff first, then we'll finish up the leak with the current product we are using."
We showed up to the jobsite and Tom, who has been doing leak seal for many years, said basically the same thing. "That's all you brought?" Tom was quite a skeptic - at first.
They popped the lid off of the manhole and revealed a gusher at the bottom – about 12 feet down from the roadway and leaking probably 15 gallons a minute. The county performs what is called "Point Grouting", which is a process where a pipe is driven from the surface down to the area near the leak. Polyurethane grout is pumped through the pipe to fill up the void and seal the leak. Tom expected to use between five and ten pails of grout.
We catalyzed the resin with a maximum dose of our fast catalyst. Tom started pumping. I had my fingers crossed hoping that he had the injection pipe in the right location. He did. The foam started coming out of the defect in the bottom of the manhole within 30 seconds. By the time he had pumped half of a 5 gallon pail, the leak was completely sealed. Tom went from a skeptic to a believer in less than five minutes. "I want some more of that, boss!" he said to Paul Morrisson – Utilities Supervisor.
Paul summed it up best – "Based on our extensive prior experience, we expected to use five to ten pails to stop this leak. With AP Fill 700 we were able to do the job with 1/10th that amount of material. Alchemy-Spetec product will save our crews a lot of time and labor and save the taxpayers of Orange County a lot of money."
Want in-depth info on leak seal procedures and products?