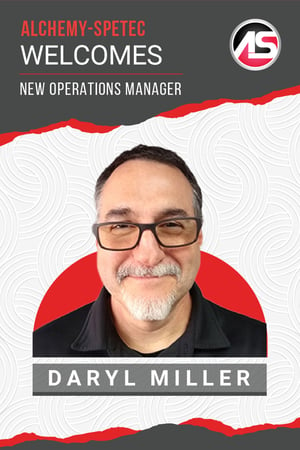 Alchemy-Spetec is happy to welcome Daryl Miller as Operations Manager at the Tucker, GA manufacturing facility.
Before joining Alchemy-Spetec, Daryl spent over 25 years in manufacturing leadership roles in the areas of operations, logistics, and EHS management. He led plastic extrusion and injection molding operations as operations manager at Cleveland Tubing, Inc., in Cleveland, TN. Daryl was responsible for planning, logistics, and transportation management at Jindal Films, a plastic film extrusion company in LaGrange, GA. He was the plant superintendent for liquid and powder polyester production at Bayer MaterialScience in Columbus, GA. Daryl was also the warehouse, logistics, quality, and compliance manager for Knauf Insulation in Lanett, AL. He was the EHS manager for Johns Manville's Industrial Insulation Group in Phenix City, AL, and operations manager for the Hyundai-Glovis vehicle processing facility in West Point, GA. Most recently he served as the logistics manager for RK Mission Critical in Aurora, CO, managing inventory, kitting, assembly, and installation operations of modular data centers for military and IT applications.
Daryl takes a hands-on, systematic approach to leadership, using Six Sigma methodologies to identify opportunities for improvement and Lean methods to optimize operations. Major projects he has led include the construction of and transfer of operations to a 65,000 square foot manufacturing facility, overseeing the implementation of M2M, SAP, and Global Shop ERP systems at three companies, developing OSHA and EPA compliant health, safety, and environmental systems for four operations, and overseeing line and new equipment start-up at multiple companies.
His strengths include developing and training high-performing teams, technical and professional writing, strategic planning, budgeting, production scheduling, warehouse and inventory management, and transportation planning. He received his bachelor's degree from Northern Kentucky University with technical writing and life sciences as his major fields of study. He has been licensed as an OSHA outreach trainer and HAZMAT technician by the Georgia Tech Professional Education program, and currently holds certifications in the transport of hazardous materials and waste.
Want more information on Alchemy-Spetec products?