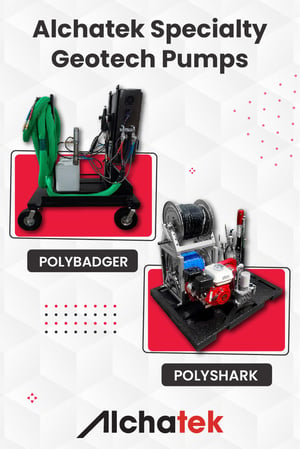 Alchatek offers world-class custom-built pump systems for both slab lifting and soil stabilization applications. If you're looking for a full-sized trailer rig system, click here to read more on that subject. In this blog post, we'll take a look at two propriety systems designed by the professionals at Alchatek.
The PolyBadger: Compact Lifting System on Wheels
The wheel-mounted PolyBadger two-component pump system is an extremely valuable addition to any slab lifter's arsenal. It is perfect for new contractors looking to make an initial investment and for experienced contractors looking to add a portable option for those hard-to-reach locations. Small enough to fit in the back of a pickup truck, this simple system requires minimal equipment.
Lower Initial Investment
Less Equipment Needed
Easily Fitted to a Truck, Trailer, or Cart
The PolyShark: Skid-Mounted Soil Stabilization System
The skid-mounted PolyShark single-component pump system is essential for large-scale soil stabilization and void-fill projects. The PolyShark system includes a gas-powered high-pressure injection pump, two hose reels, and flow meters. The entire skid-mounted system can easily be fitted to a flatbed truck for efficient transport.
Ideal for Large-Scale Jobs
Complete System (Pump, Hose Reels, Flow Meters)
Easily Fitted to Flatbed Truck
Want more info on Alchatek geotech products and equipment?