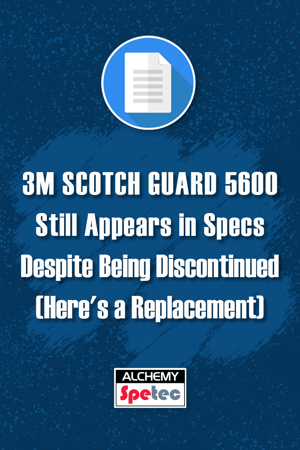 3M Scotch Guard 5600 can still be found in engineer specifications for a variety of leak seal applications. However, this product is no longer manufactured. Fortunately for anyone using these specs, Spetec PUR GT500 is available a substitute. See the details below and call us at 404-618-0438 with follow up questions!
Uses for Spetec PUR GT500:
Sealing cracks in concrete structures through pressure injection.
Sealing hairline cracks, expansion joints, wide cracks, pipe joints, pipe penetrations.
Saturating dry oakum to create a flexible gasket for sealing pipe penetrations, joints and larger defects in concrete structures.
Advantages of Spetec PUR GT500:
Non-flammable. Does not contain any volatile organic compounds
No catalyst required.
Tenacious bond to wet concrete.
High elongation.
Thin enough to penetrate tight cracks.
Hydrophilic.
Phthalate free (more environmentally friendly).
Certified to NSF 61-5 (Approved for contact with drinking water).
If you're working with old specifications designating 3M Scotch Guard 5600 for leak seal applications, you can definitely use this product as an alternative. Engineers writing new leak seal specifications for the uses mentioned above should also consider including Spetec PUR GT500. If you have any questions, please don't hesitate to call our industry leading technical support team at 404-618-0438.
Want more information on Alchemy-Spetec Leak Seal products?