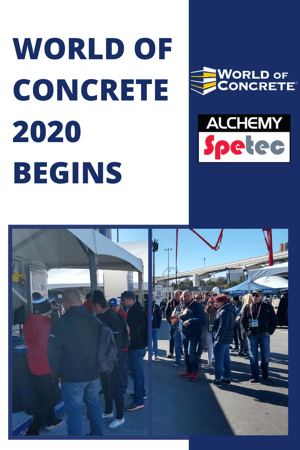 Greetings from World of Concrete 2020! Today marks the beginning of the show and we're going the extra mile this year to make sure both Leak Seal and Geotech interests are served to the fullest extent possible. We have an entire booth dedicated to the Leak Seal Division & Product Line in the South Hall at location S11307. We have entire outdoor exhibit space dedicated to the Geotech Division & Product Line in the Silver Lots at location O40551. Each booth is staffed by product and application experts ready to talk to you about infrastructure repair!
The Leak Seal Division
The Alchemy-Spetec Leak Seal Product Line combines a full-system offering of polymer chemical grouts and equipment with the most experienced technical team in the industry. For any concrete leak seal application, lean on the Alchemy-Spetec team for phone, field, or engineering support. Our growing network of Regional Managers, Independent Representation, and Nationwide Distribution offers industry professionals many levels of opportunity worth discussing with our team. Consultants at Alchemy-Spetec pride themselves on rapid, powerful, and painless scheduling of field and technical support. We invite all attendees to inquire about our bi-annual factory training held at the Tucker, GA-based manufacturing facility where they can learn from the 20+ year average industry experience of our Regional Management and Technical Team.
The Geotech Division
The Alchemy-Spetec Geotech Product Line offers industry-leading quality, full chemical grout lifting rig training and support, and unmatched contractor support in the field and with sales and marketing. Stop by our outdoor booth to see live slab lifting demos and to learn about some of the tangible benefits of joining the Alchemy-Spetec network of geotech contractors. The Alchemy-Spetec MixMaster Pro Gun is a maintenance and production cost-saver for any lifting contractor, while the flagship lifting foams have helped many contractors reduce volume usage while eliminating call-backs. From the Polybadger machine that fits into a pickup truck, to custom boxtruck and trailer rig buildouts, Alchemy-Spetec has successfully positioned themselves as an industry-leading geotechnical chemical grout supplier. With the additions of ground penetrating radar and penetrometer equipment and support, Alchemy-Spetec is truly on the cutting-edge of the chemical grouting industry.
Want more info on Alchemy-Spetec products?