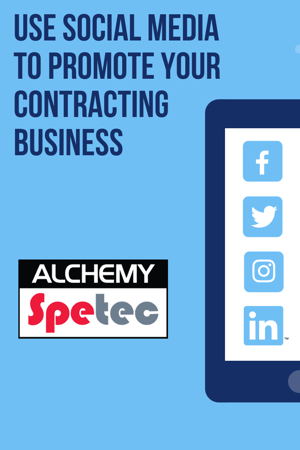 Many of you contractors in the polyurethane infrastructure repair business are already actively promoting your businesses on social media. But, according to my observations, some of you are not using all of the main channels available. In addition, a few of you are not on social media at all. After noticing these gaps I've decided to write up a brief summary of each main social media outlet available to you.
Facebook
Facebook has a feature that lets you create a company page to promote your business. It's a great channel because it has the most social users of any social media channel. You can use this channel to post detailed updates about recent jobs and other company news, engage with users who comment on your posts, and even purchase paid advertising. See Facebook's Facebook Business page for more information.
Twitter
Twitter is a little bit different; being that you are limited to a small amount of characters per post. Twitter can be more conversational in nature. You can tweet brief comments with photos from the job site, short links to your more detailed Facebook posts, etc. Make sure you're following industry media, so you can re-tweet relevant information that your customers may find helpful. See Twitter's Build Your Brand with Twitter for Business page for more information.
Instagram
Instagram is more of a photo-centric app. It's a great way to share photos from your jobs, etc. You will not be allowed to include links in your photo description text, so make sure your company website is linked from your profile. If there is more information on your website that relates to a particular post, just direct people to that website link in your profile. You will also have to post via your cell phone, as Instagram doesn't allow posting via a desktop PC. See Instagram's Instagram Business page for more information.
Pinterest
Pinterest can be used to create "boards" related to specific topics. (Similar to folders on your computer.) In these boards, you can share relevant links that you find on the internet or create yourself in the form of blog posts, web pages, etc. For example, our Pinterest account has boards for each application category. So when we post a new blog article on Soil Stabilization, we share it on our Soil Stabilization Pinterest board. See this Pinterest for Business page for more information.
YouTube
If a picture is worth a thousand words, then a video is worth a million. Use your phone or an inexpensive video camera to shoot videos of your crew in action on the job site, interviews with happy customers, etc. Upload the videos to your YouTube account, and then share the YouTube links on your other social media platforms! See this article 12 Tips for Using YouTube for Your Small Business for more info.
LinkedIn
Contrary to popular belief, LinkedIn isn't only for job seekers and recruiters. LinkedIn can be an integral part of your business social media strategy. It has the tools to generate leads, increase brand awareness and even create partnerships. Like Facebook, there is no text limit, so you can post detailed updates about jobs, case studies, etc.
Let's take a look at a couple other ways to use LinkedIn.
Build Relationships through Connections
As a business owner you can connect with prospects, strategic partners, referral partners and other business owners. From there you may decide how to foster these connections and turn them into relationships that will in turn grow your business.
LinkedIn Groups
Become a member in an industry LinkedIn group by searching keywords that are relevant to your industry. For example; if you work with polyurethanes you may want to join groups that have key words such as: chemical grouting, urethane, soil stabilization, trenchless technology, waterproofing, etc.
See this article How to Use LinkedIn to Promote Your Business for more information.
Conclusion
I hope you've enjoyed this brief overview of the most popular social media channels. If you have further questions, read the linked resources I've included at the end of each section. Feel free to call us with questions as well.
These channels are all great ways to market your business. Make sure you post informative content that your customers will naturally want to read. One simple sales pitch after another will bore your audience pretty quickly. Keep it interesting to maximize user engagement and grow your following!
For more insightful information be sure to follow us on these channels!
https://www.facebook.com/AlchemySpetec/
https://twitter.com/Alchemy_Spetec
https://www.instagram.com/alchemy_spetec/
https://www.pinterest.com/alchemy_spetec/
https://www.youtube.com/c/Alchemy-Spetec/feed
https://www.linkedin.com/company/alchemyspetec
Want more tips on marketing your contracting business?