The U.S. Department of the Interior and the Bureau of Reclamation recently conducted a study in which they evaluated methods for sealing contraction joints in dams. They tested 8 methods. Spetec PUR F400 was used in one of only two methods that reduced water flow 100%. We'll share some excerpts from their report in today's blog post...
The U.S. Department of the Interior protects America's natural resources and heritage, honors our cultures and tribal communities, and supplies the energy to power our future. The mission of the Bureau of Reclamation is to manage, develop, and protect water and related resources in an environmentally and economically sound manner in the interest of the American public.
All Reclamation concrete dams have joints which experience pressure caused by the reservoir water elevation. These joints have waterstops between the formed drain and the upstream face of the dam to prevent water leakage through the joint. Over time, the waterstops can begin to leak which can become a significant maintenance issue. These leaks can lead to millions of dollars of increased maintenance costs across numerous facilities, since they corrode metalwork, increase operation costs through increased pumping to remove excess water, and reduce worker productivity as they work around the leaks, etc. In some cases, the water leaks can threaten or damage expensive equipment.
Conventional leaking contraction joint repair methods are either very expensive or do not last long. Based on work from previous years looking into cheaper repair options, where we developed an inexpensive method to deliver repair materials to a specific location deep under water, several prototype repair methods were developed. To test those methods, we built a laboratory fixture to simulate a leaking contraction joint in a dam under pressures as high as 35 psi. With this fixture we tested different repair options. These options included sawdust, hydrophilic waterstop chips, chemical grouts used for sealing water leakage through concrete, and combinations of the chips and grouts.
In this testing we found that sawdust didn't slow the water flowing through the test fixture joint. Hydrophilic chips slowed the water by as much as 65%, and Hydrophilic chips combined with some chemical grouts completely stopped the water flow through the test fixture joint. These results could have substantial implications at Reclamation facilities with leaking contraction joints. These methods can be implemented to significantly reduce or completely stop the infiltration of water and are much cheaper than many alternatives.
Here is the product comparison table excerpted from the report...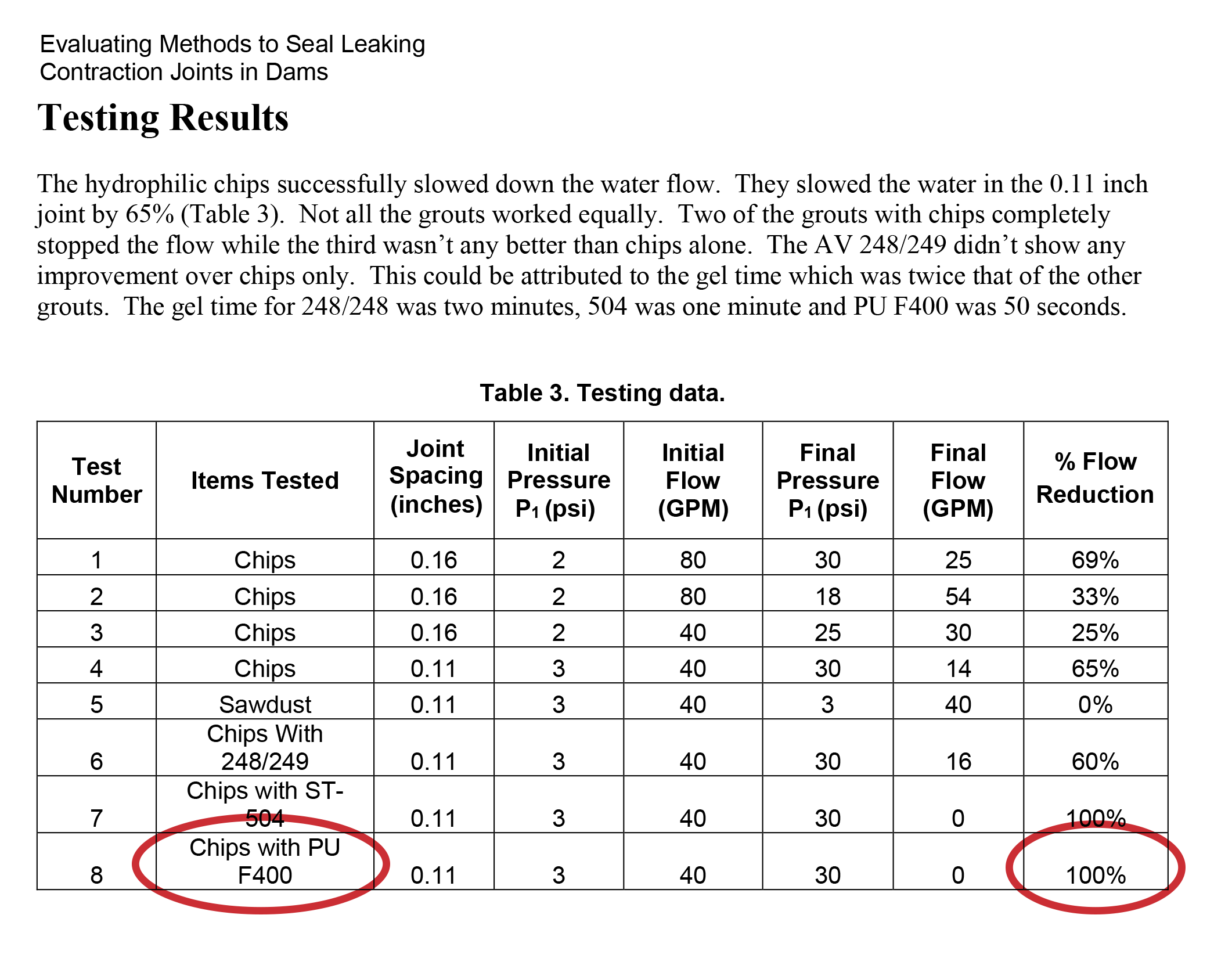 You can read more about the report here and download the entire report here.
Want more information on Alchemy-Spetec leak seal products?