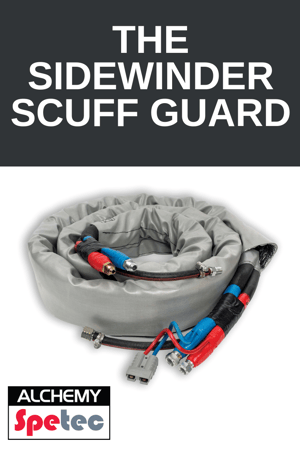 When your reputation is on the line, we've got you covered.
Sidewinder Scuff Guard incorporates the most advanced
insulation and abrasion-resistant materials to enhance application
and provide higher yields when pushing foam.

Available in both insulated and non-insulated versions, Sidewinder installs in minutes and offers unmatched hose protection from heavy abrasion, moisture, and temperature energy loss.

Forget the duct tape and nylon sock! Bundle up with Sidewinder's "all-season" Scuff Guard from Alchemy-Spetec.
RUGGED SIMPLICITY. Sidewinder's sleek, low-profile design makes dragging hose a breeze.


OPTIMIZED FOR SPF. Sidewinder's specialized cover provides added protection in wet, high UV applications and remains extremely flexible in temperatures from -60°F to 250°F.


UP TO 60% ENERGY SAVINGS. Insulated sleeve can reduce temperature loss by up to 60%.


GETTING HEATED? Sidewinder Scuff Guard helps control viscosity & reduces wear to proportioners eliminating these headaches:


Inability to maintain ideal temperatures under varying conditions
Hours spent repairing heavy hose sock & replacing tattered duct tape
Replacing costly FTS cables, FTS sensors & defective whips
Loss of yield, cutting into profits
Want more information on Alchemy-Spetec Geotech products?