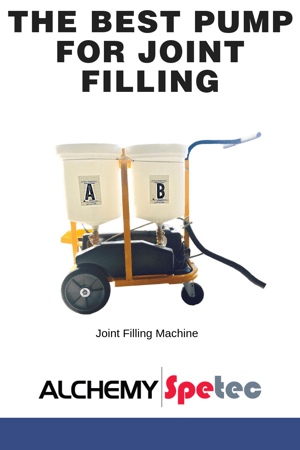 In this post, we'll profile the Alchemy-Spetec Joint Filling Machine, which is used with
AP Joint Fill 800
and
AP Fast Repair 850
for structural repair jobs. This article covers a lot of technical territory in a few short paragraphs. So, if it raises any questions for you, please call us at 404-618-0438.
Off-ratio product is probably the most prevalent issue with polyurea joint pumps. This typically comes down to just a few possible scenarios. Most commonly the material may be a bit too thick for the machine. For instance, many suppliers market their pumps as "joint filling", but fail to specify product choices for the pump. A small difference with the Alchemy-Spetec Joint Filling Machine (manufactured by US Saws) is the 1" throat from the bottom of the hopper leading to the rotary gear pumps. Most suppliers are using 5/8" or 3/4" throat.
Another common symptom you may run across with some pumps: Any time there is any build-up in the static mixer (which is common with material that sets in 30 seconds or less), there may also be back pressure put on the system, and the seals around the shaft for the sprocket/chain assembly may blow, and then you'll see material dripping from the shafts by the chain. This is another tell-tale sign that the pump you are using is not pressure rated high enough. And once a seal is compromised at all, the ratios go all over the place. Concentric seals do much better with this. Also be careful with your flushing agent here. If you're not using the Alchemy-Spetec Joint Filling Machine, ask your pump manufacturer what the seals are made of. PTFE seals typically hold up to solvents better than Viton, for example. A chewed up Viton seal caused by acetone flush can be a common cause of off-ratio product.
The reason we chose the pump we have for our line is because US Saws has it best figured out. Feel free to browse the US Saws link below for specifics on the machine...
One of the things we really like with this pump is that they have a unique configuration of the chain/sprockets which keeps more teeth of the sprocket engaged, and that prevents any skipping of the chain when back-pressure is encountered. Also, the HDPE tanks are nice because you can see the levels of the material. With the steel tanks of other pumps, often times the applicator will happen to look into the tanks only to realize that the last 100' of joint fill he put down is off-ratio. It's much better to see this in real-time, all the time. This pump also has the wide throat and PTFE seals.
Want more information on Alchemy-Spetec products?