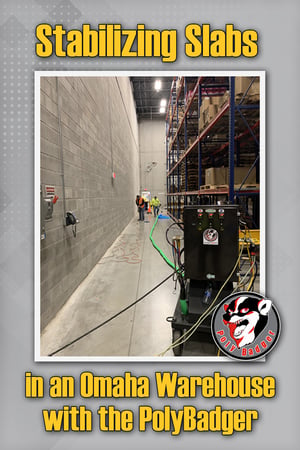 Not too long ago, I visited my customer Melvin Sudbeck's company, Sudbeck Construction, on a warehouse job. They were called in by the property owner because he had noticed four slabs that were shifting up and scraping against a wall when forklifts crossed them. The crew drilled a couple of preliminary holes in the slabs for diagnostic purposes and discovered voids underneath ranging from 12-18 inches in depth.
The Sudbeck team injected 35 gallons of AP Lift 430 beneath the slabs to stabilize them. This high-strength polyurethane foam provides a solid, reliable, long-lasting base underneath the concrete to prevent future shifting or sinking. These forklifts were larger than your standard model, so it was important to use tough, strong material for stabilization. After the initial four slabs were stabilized, we walked around with the plant manager and a few other employees as they pointed out more unstable concrete that was shifting underneath the weight of these massive forklifts. The workers who had to drive over these rocking slabs said they actually felt jolted when they hit these hazard areas.
We explained to the plant manager that the Sudbeck crew could come back during off-hours and do the rest of this work in a very efficient manner. Since the polyurethane cures quickly, the slabs would be steady and ready when the warehouse staff returned in the morning. Melvin's crew has since returned and completed the rest of the work successfully. Sudbeck Construction completed all of this work with the tough, compact, PolyBadger mobile slab lifting unit. Small enough to fit into the back of a pickup truck, the PolyBadger was a very smart choice for the job because it could be wheeled inside the warehouse directly to all of the problem areas.
If you're a property owner in the Omaha area with sunken or unstable slabs, call Sudbeck Construction at 402-306-9506 today!
Want more information on the PolyBadger mobile lifting system?