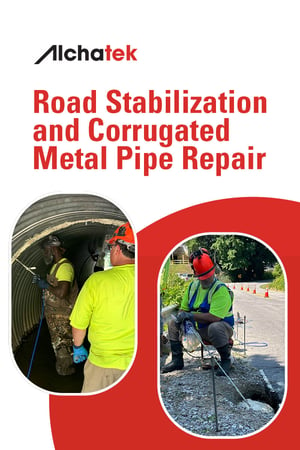 An Oakwood, Georgia corrugated metal pipe rehab job, involving the replacement of the end caps, resulted in soil migration through the new joints. This in turn led to depressions in the asphalt road above. The City of Oakwood public works department called in Atlanta-based geotech specialists LiftitRite to assess and repair the pipe and the soil.
Powerful Polymer
Alchatek's AP Fill 700 was an easy choice for this project. AP Fill 700 is a single-component, water-activated, hydrophobic polyurethane resin that is highly effective in cutting off high-flow underground leaks, filling voids, and stabilizing soil. It is also NSF/ANSI/CAN 61 approved for contact with drinking water.
Painless Procedure
The technicians began by stuffing the larger joints with resin-soaked Oakum to create an impermeable gasket. Then, injection ports were installed adjacent to the joint in a clock pattern. The crew injected AP Fill 700 until the joints were fully sealed and permeation of the surrounding soils was achieved.
Wanting to ensure a "belt and suspenders" repair was done, they opted to inject AP Fill 700 through the top of the road as well via injection probes. The probes were driven down to depths coinciding with the tops and sides of the culvert pipes. These injections ensured that all voids and shifted soils caused by the pipe infiltration were filled, permeated, and stabilized - thus preventing any future road depressions or dropouts.
Rapid Result
City of Oakwood officials were extremely pleased to see this issue remedied in just 2 days via an effective and affordable solution that involved minimal traffic disruption and zero excavation.
Want more information on geotech products and equipment?