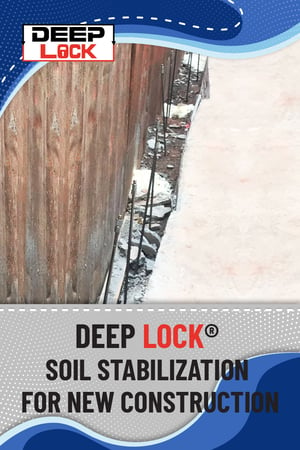 A general contractor on a new commercial construction job reached out to Atlanta-based geotech contractor SiteMix Pressure Grouting LLC about the foundation phase of a project they were working on. Sheet pile panels were used for erosion control while they poured the foundation walls. After the foundation concrete was cured, there was still a layer of gravel and soil being held in place by the sheet pile panels, located between the panels and the foundation. If the contractor were to pull up the sheet piles without stabilizing that gravel and soil first, it could become unstable, leaving the foundation without a surrounding layer of supporting soil. The soil and gravel would need to be locked in place first before the sheet pile panels were removed. Soil stabilization specialists SiteMix Pressure Grouting LLC were the perfect subcontractors for this job.
Powerful Polymer
The technicians selected Alchemy-Spetec's AP Fill 720 structural polymer for the job due to its ability to permeate the soil and encapsulate the gravel into one solid mass.

Painless Procedure
The crew inserted injection rods to a depth of about 12 feet deep at a spacing ratio of 3 feet apart along the entire length of the foundation wall. Next, they injected the structural polymer until it was seen bubbling up through the surface of the ground (a.k.a. grouted to refusal).
Rapid Result
The entire layer of surrounding supportive soil and gravel was locked into place. When the sheet piles were pulled, only a thin gap from the sheet pile panels remained. The contractor then filled that gap with cement, leaving a solid supportive wall of soil/gravel/grout to support the foundation.
Want more information about the Deep Lock® soil stabilization process?