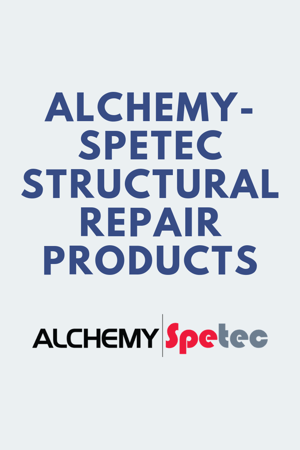 The Alchemy-Spetec structural repair product line consists of products for joint filling, spall repair, anchoring, and bonding.
Poyurea Joint Filler
AP Joint Fill 800 is a two-component hybrid polyurea joint filler with fast reaction allowing for shave time in as little as 5 minutes. The fast reaction allows for minimal down time and facilities to be in operation quickly. Read more...
Polyurethane Spall Repair
AP Fast Repair 850 is a zero VOC, two-component polyurethane system. The high-quality thermoset is designed for fast repair of concrete (spalls, cracks, etc.). Its low viscosity allows for maximum penetration into cracks and porous concrete. This product can be mixed with up to equal parts oven dry silica sand to increase product yield and compressive strength. Read more...
Non-Sag Epoxy for Structural Anchoring/Bonding
AP NS950 Epoxy is a two component, non-sag structural epoxy designed to offer exceptional mechanical strength in anchoring/bonding applications. Due to its high bond strength to concrete, it is ideal to use for anchoring threaded rod or rebar dowels. The consistency of AP NS950 EPOXY is good for capping for crack injection or general surface repairs. AP NS950 EPOXY is 100% solids, VOC free and Butyl Glycidyl Ether (BGE)* free. Read more...
Low-Viscosity Expoxy for Structural Bonding of Cracks
Epicol INJ LV is a low-viscosity epoxy resin for structural bonding of cracks and micro cracks in dry or wet concrete. Can be used as glue for bonding and anchoring. Read more...
Want more information on Alchemy-Spetec products?